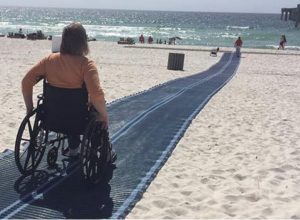 South Santa Rosa News file photo of Mobi-Mats at Navarre Beach
The Santa Rosa Island Authority (SRIA) this afternoon announced the arrival and deployment of Mobi-Mats on Pensacola Beach.
A Mobi-Mat is a portable rollout, non-slip matting that is temporarily or permanently laid down on the ground to provide grip and easy access for all wheelchairs, strollers, and pedestrians on mobility-resistant sand, grass or other soft and unstable surfaces.
Funded by the SRIA and deployed by Escambia County Public Works, the mats will be located on five beaches along the island:
Casino Beach
Park West North Beach
Moms Beach
Boardwalk Beach
Baby Beach
An additional feature, a Mobi-Chair, will be found at Casino Beach and Moms Beach. A Mobi-Chair is an amphibious wheelchair that will provide the user easy access to the Gulf or the Sound, when conditions allow its safe use.
A ribbon cutting for the new Mobi-Mats will be held on Friday, June 28, at 10 a.m. at Casino Beach.