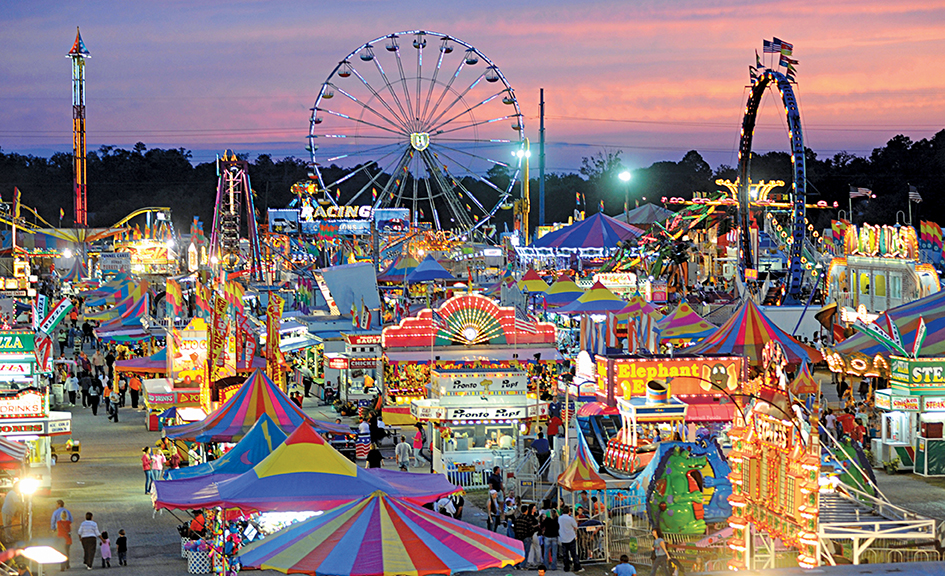 Pensacola's biggest and longest-running annual agricultural and entertainment tradition returns for its 85th season Thursday, Oct. 17 through Sunday, Oct. 27, bringing with it the excitement of attractions and screams from exhilarating rides, exhibits, fair food, fun and shows for the whole family.
"We are thrilled to bring such a variety of acts to Pensacola," said Don Frenkel, Pensacola Interstate Fair General Manager.
Returning this year, the Fair's musical line up kicks off opening night with the "Cat Country 98.7 BIG Lip Sync Battle Finals," an epic showdown on Thursday, Oct. 17, starting at 7 p.m. Leading up to the finals, Cat Country will host a lip sync battle at various locations around Pensacola where three winning contestants will be chosen each night. A total of 12 acts will battle it out on stage to become the 2019 Lip Sync champion at the fairgrounds on Thursday, Oct. 17.
On Friday night, Oct. 18 at 7:30 p.m., the Pensacola Interstate Fair is proud to welcome back Pensacola's favorite local band White Tie Rock Ensemble in a tribute to the Southern-rock pioneer band, Lynyrd Skynyrd. The local group of musicians recreates classic rock albums with a classical approach: a full rock band, along with the Tied Up String Quartet, and an added dimension of a multimedia presentation. Expect to hear classic hits like, "Sweet Home Alabama," "Free Bird," "Saturday Night Special," and "Workin' for MCA."
Shreveport-born and Nashville-weathered country singer Jordan Davis, who was named Billboard's Top New Country Artist of 2018, will bring his soulful songs to the stage on Saturday, Oct. 19, at 7:30 p.m. By melding classic lyric-writing with modern musical texture, Davis is similarly staking out his own spot on the creative map. Expect to hear songs from his debut album, "Home State," including back-to-back No.1 Platinum hits "Singles You Up" and "Take It From Me" as well as his current Top 30 single "Slow Dance In A Parking Lot."
On Monday, Oct. 21, Beatles' fans may do a double take as Northwest Florida's only Beatles Tribute Band, Not Quite Fab, takes the stage at 7:30 p.m. The band gives audiences the true Beatles experience: with wigs, Beatles suits and boots, Shea Stadium Jackets, Sgt. Pepper suits, Liverpool accents and the same model guitars and amps the Beatles used. The show is in two parts, early and later Beatles music with a costume change. In addition to the music act, festival goers can also attend the 4-H Youth and FFA Steer Show at 7 p.m. nearby in the Livestock Arena.
On Wednesday, Oct. 23, the public is invited to attend and participate in the 4-H Youth and FFA Livestock Auction at 7 p.m. from the Livestock Arena. Around 30 steers will be auctioned off this year. So don't miss out!
As part of our special Senior Appreciation Day, come on Thursday, Oct. 24, at 3:30 and 7 p.m. as two-time World Champion Thane Dunn Presents "Elvis on Tour." With his amazing Elvis voice, natural physical resemblance, Presley-like sense of humor and magnetic personality — Thane truly delivers "the full Elvis package."
On Friday, Oct. 25, at 7:30 p.m. the Pensacola Interstate Fair welcomes Starship featuring Mickey Thomas, the venerable San Francisco band behind several of the 20th century's biggest pop and rock anthems like, "We Built This City," "Sara," and "Nothing's Gonna Stop Us Now."
Saturday night features a double-act lineup. At 6 p.m., Seaforth, the Australian country-pop duo featuring songwriters Tom Jordan and Mitch Thompson, bring their hook-heavy music halfway across the world. The pair grew up in the Sydney suburb of Seaforth and named their band after their inspiring hometown. Their music highlights their genre-jumping songwriting chops, elastic voices and layered harmonies. Following that, at 8 p.m., country music singer and songwriter Mitchell Tenpenny will bring his laid-back, bro-country soulful vibe to the stage to close out the fair concert series. Hailing from Nashville, Tennessee, Tenpenny will perform hit songs like "Black Crow," "Alcohol You Later," and his No. 1 single, "Drunk Me."
New to the Fair this year is the "Sea Lion Splash," a sea lion show that will perform two-to-three daily shows, depending on the day. Back by popular demand, fairgoers can also experience an interactive, hands-on exotic animal zoo at the Eudora Farm's "Animals from Around the World" station. The petting zoo is open daily from fair open to close.
Check the PensacolaFair.com website for daily show times.