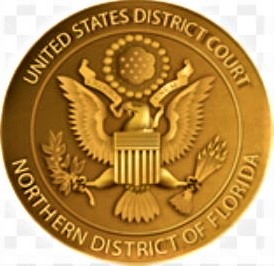 Timothy J. Smith, 42, of Mobile, Alabama, was found guilty by a federal jury
late Tuesday evening in the United States District Court in Pensacola of charges of theft of trade
secrets and interstate extortionate communications. Lawrence Keefe, United States Attorney for the Northern District of Florida, announced the verdict today.
During trial, the jury received evidence that Smith was a software engineer in Mobile, Alabama.
StrikeLines, the victim in the case, is a Pensacola-based company that uses commercial side scan sonar equipment to locate fishing reefs in the Gulf of Mexico and sells the coordinates using an interactive map on their website. StrikeLines also provides public coordinates for free to those interested in finding valuable spots to fish in the Gulf.
The evidence showed that, between April and November 2018, Smith obtained private information valued at hundreds of thousands of dollars from the local company by using sophisticated cyber techniques in order to gain the trade secrets and decrypt information of the company from its website. After hearing how Smith stole private sonar coordinates of reefs, the jury received testimony and exhibits showing how Smith then tried to extort the two owners of StrikeLines for more valuable fishing coordinates. During this entire time frame, the victims did not even know who Smith was or why he was trying to harm them.
U.S. Attorney Keefe said: "The U.S. Attorney's Office takes very seriously cyber crimes of all
kinds, ranging from protecting our national security to the secrets of private companies. In our
increasingly online society, cyber security is vital to all of us as we conduct Internet
transactions and conversations so that we can be confident our identities and personal information are protected. Our office is pleased that the jury held the defendant to account for victimizing a small local business."
The maximum penalties Smith now faces are up to 10 years in prison for the theft of trade secrets, and up to 2 years in prison for interstate extortionate communications. The sentencing is scheduled for February 18, 2020, at the United States Courthouse in Pensacola.
This case resulted from an investigation by the Florida Department of Law Enforcement, the Federal Bureau of Investigation, and the Escambia County Sheriff's Office. Assistant United States Attorney David L. Goldberg is prosecuting the case as he is the Computer Hacking and Intellectual Property Coordinator and National Security Cyber Specialist for the Northern District of Florida.