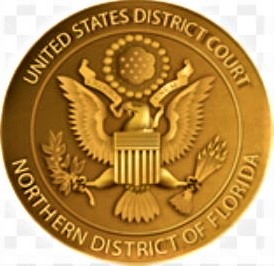 A Pensacola man has been sentenced to a mandatory minimum term of 15 years in federal prison after pleading guilty to drug and weapons charges related to drug trafficking. Lawrence Keefe, United States Attorney for the Northern District of Florida,
announced the sentence given to Samuel Gomez, 30, who pled guilty to possession with intent to distribute 500 grams or more of methamphetamine and possession of a firearm in furtherance of a drug trafficking crime.
"Drugs remain a scourge on our communities, leaving ruined lives and too often a trail of violence in their wake," U.S. Attorney Keefe said. "With the help of our federal, state, and local law enforcement partners, we will continue to pursue, prosecute, and punish those who spread these drugs in hometowns across Northern Florida."
Law enforcement personnel executed a federal search warrant at Gomez's Pensacola residence on November 6, 2019. Inside the residence, officers seized a total of approximately 3 pounds of methamphetamine, as well as other substances suspected to be cocaine, heroin, and fentanyl.
Law enforcement also seized three firearms, two digital scales, baggies, and approximately $6,000 in U.S. currency. The firearms seized were identified as a loaded Ruger pistol, a loaded Smith and Wesson revolver, and a loaded MILTAC AR-15-style pistol. The firearms were located near the seized drugs and were being used by Gomez in furtherance of his drug
trafficking crime.
"Reducing violent crime and protecting the public in the communities that we serve is a priority for ATF", said ATF Special Agent in Charge Daryl McCrary, "We will continue to work vigorously with our law enforcement partners to make sure those individuals who commit violent firearms crimes are prosecuted to the fullest extent of the law."
The case resulted from a joint investigation by the Drug Enforcement Administration, the Bureau of Alcohol, Tobacco, Firearms and Explosives, the Pensacola Police Department, the Florida U. S. Department of Justice Lawrence Keefe
United States Attorney Northern District of Florida Department of Law Enforcement, and investigators with the State Attorney's Office. Assistant United States Attorney J. Ryan Love prosecuted the case.
This case is part of Project Guardian, the Department of Justice's signature initiative to reduce gun violence and enforce federal firearms laws. Initiated by the Attorney General in the fall of 2019, Project Guardian draws upon the Department's past successful programs to reduce gun violence; enhances coordination of federal, state, local, and tribal authorities in investigating and prosecuting gun crimes; improves information-sharing by the Bureau of Alcohol, Tobacco, Firearms and Explosives when a prohibited individual attempts to purchase a firearm and is denied by the National Instant Criminal Background Check System (NICS), to include taking appropriate actions when a prospective purchaser is denied by the NICS for mental health reasons; and ensures that federal resources are directed at the criminals posing the greatest threat
to our communities. For more information about Project Guardian, please visit
https://www.justice.gov/usao-ndfl/pr/attorney-general-announces-launch-project-guardiannationwide-strategic-plan-reduce-gun.