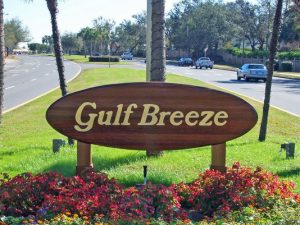 This week, construction crews started demolishing the Peyton Building in Gulf Breeze Proper to make way for a new 10,680 sq. ft. medical facility.
The city sold the dilapidated building to a medical group, who have plans to construct a new medical office building.
The building will house Henghold Skin Health as its primary tenant and also another tenant, who has yet to be named.
Along with the Peyton Building, crews also demolished the old Gulf Breeze Sentinel building behind it.
J.G. Buehler and Company approached the City of Gulf Breeze early last year about acquiring the building.
The City had purchased the building years prior with hopes to turn it into an office building/storage site. But after assessing the building, it was determined that it was going to cost tens of thousands of dollars to get it up and running again, and determined it wasn't cost effective to do so.
The City received an offer from the interested buyer in early 2016 and ultimately sold the property for $400,000.
The building is expected to be completed by the end of this year.