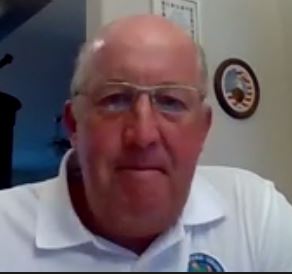 Santa Rosa County District 4 Commissioner Dave Piech during a virtual town hall meeting this evening provided an update on the commission's impending vote to expand contracted services with Waste Pro, allowing the company to service the entire county for a period of five years.
Previously Emerald Coast Utilities Authority provided waste services for certain unincorporated areas in the north end of the county.
Piech stated that on April 2 ECUA provided notice to the county that the utility would not pursue renewal of its contract, which ends in 2021.
The cost for customers will increase from $66.30 to $72.89 per quarter.
Piech said the new contract with Waste Pro "doesn't have everything everybody wanted" but that during negotiations "we saw some of their side, they saw some of our side."
He also noted Waste Pro will be making a $15 million investment to purchase new trucks and containers for the contract and so that all containers are color coded for trash, green waste and recycling.
Additionally, he noted that recycling will now be a subscription service so that the county doesn't have to pay roughly $250,000 to subsidize that program, which he said only about 10 percent of customers use.
The proposed contract expansion reduces trash pickup service from twice weekly to once weekly. However, Piech said each customer will receive a 96-gallon, brown-colored "green waste" container that they can use to discard additional trash on trash pickup days.
Piech said green waste pickup will take place once weekly on a different day of the week than trash pickup.
The expanded contract, which will be discussed during Thursday's Board of County Commission meeting, includes a $300,000 performance bond, which Piech said would enable the county to make due should the company pull out before the contract ends.
He also noted there will be a $25,000 liquidated damages account which the county can use to fine the company for missed trash pickups or to clean up spilled hydraulic fluid.
District 3 Commission Candidate Jerry Couey would like the county to consider other ideas. "I think it is important to explore all possibilities for our garbage issue, including owning our own solid waste system," Couey said.
To provide feedback on the proposed contract to all five county commissioners email bocc@santarosa.fl.gov.
Other county project updates presented during the town hall included:
No dates on the impending closure of Navarre Park for planned Phase I improvements totaling $3.3 million; wildlife in the pond will be relocated to another county-owned pond by Florida Fish & Wildlife Conservation Commission and county staff
Pier will be used to launch fireworks for Independence Day every year henceforth
Pier parking lot restrooms were not completed before the 4th of July; therefore, portable toilets were brought in; ADA inspection to be completed tomorrow; completion of outdoor showers still underway.
An engineering firm was approved to develop a master plan for new county sports fields to be constructed in District 5 at the Pensacola State College campus in Gulf Breeze.
NYSA activities could restart August 17; added new shed and putting new UTV at Holley Ball Park; Raider 5K date will be changed from August 1 and announced soon;
Adoptable kittens are now available at county animal shelter