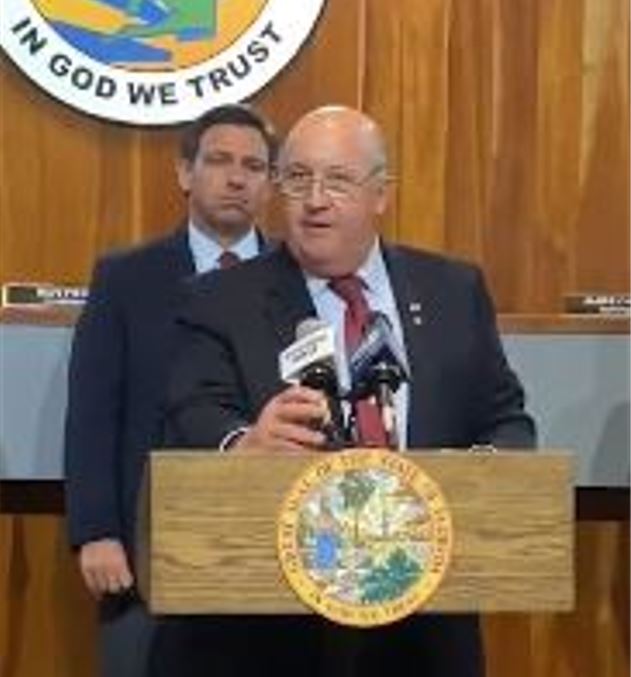 Piech is currently Chairman of the Florida-Alabama Transportation Planning Organization. South Santa Rosa News file photo.
Santa Rosa County District 4 Commissioner Dave Piech has been working with state officials to improve traffic flow on U.S. 98 and Gulf Boulevard. Some recent changes seem to have provided some immediate relief, according to local business owners.
Less than two weeks after installation of Miovision devices on traffic signals on U.S. 98 at Navarre Beach Bridge and Hwy. 87 S, traffic flow seems to have improved. Florida Department of Transportation staff are now able to monitor real-time traffic and adjust the traffic signals accordingly. Although some situation such as traffic accidents continue to clog traffic from time to time, motorists say the afternoon flow of traffic off Navarre Beach has already improved.
Kevin Rudzki, one of the owners of Juana's Pagodas on Navarre Beach, says he noticed a "huge" difference only days after the new system was installed. "For the first time this year I was able to pull out of the business and head across the bridge and damn near drive straight to 98 with little or no traffic."
Rudzki said there was still some congestion on Gulf Boulevard but he's hopeful that a new traffic signal currently being installed at Navarre Beach Causeway will further alleviate traffic.
Piech says he has also been working with FDOT to increase the posted speed limit in school zones on U.S. 98 from 20 mph to 30 mph at Holley-Navarre Primary and Middle and West Navarre Primary and Intermediate.
According to Piech, FDOT made a similar change to the school zone for nearby Florosa Elementary in Okaloosa County. "Data shows that definitely keeps traffic moving better, and these (Navarre) schools are further off the highway, so (FDOT doesn't) see any issue with being able to make that happen."
Piech says the Santa Rosa County District School Board must vote on that matter, and he expects to see that request on an upcoming agenda.