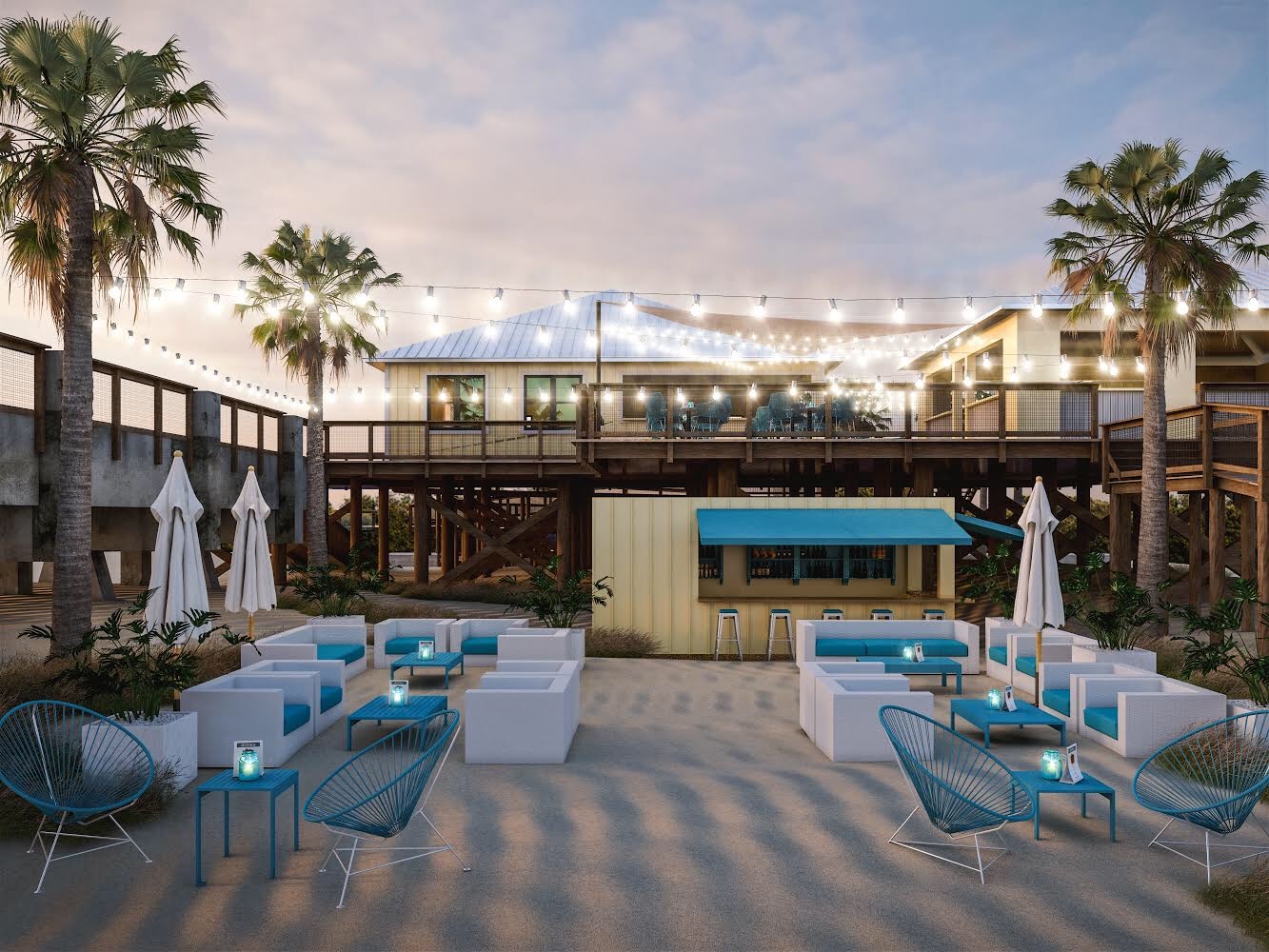 Rendering from the Walters/Mobley proposal
11 vendors are vying to operate the Navarre Beach Fishing Pier. At Monday's bid opening the following businesses submitted proposals to Santa Rosa County, which owns the facility.
All bidders except one, Navarre Beach Management and Holdings, LLC, offered to return 100 percent of pier admission fees to the county.
But the proposals offered varying percentages, ranging from three to seven percent, of restaurant and retail store revenues.
And the bids were peppered with creative ideas aimed to appeal to commissioners, many offering capital improvements, such as expanding the deck area around the restaurant and remodeling restrooms.
More than half of the bidders are familiar to the Navarre Beach Fishing Pier bidding process.
Scott Rayner is managing partner of Coastal Concessions, the current pier operator. He's offering to provide $60,000 in capital improvements plus give the county an extra one percent of total gross revenue for a total of 6 percent. Rayner's proposal states he will not sell liquor.
Rayner's current business partner, Chris Thomas, submitted a separate proposal with his wife, Jennifer. The couple own and operate Fusion World and offered a no interruption, turnkey operation with 5.5 percent of revenues and a $50,000 facelift of the facility, including replacement of the kitchen grease trap. Additionally, the Thomases are offering to place an additional one percent of revenues into an escrow fund for improvements.
Bob Benaquis, a former partner of Rayner, and Kenny Cook submitted a proposal seeking a 17 to 25-year lease. They're offering to provide more pier benches and a pro-rated percentage of revenues: 3 percent up to $100,000; 4 percent up to $200,000; and 5 percent if monthly sales exceed $200,000.
Robert Slye of Pier Management Group is the son of former pier operator Dorothy Slye. Pier Management Group did not provide a return percentage in their bid but offered a new, climate-controlled 4,000-square-foot main structure with 3,000-square-feet of decking and tiled bathrooms if they are provided a 30-year lease. "If lease terms are less than 30 years, capital improvements will be limited," stated their proposal.
Navarre resident Yolanda Wells, a previous bidder, and Ian Kaple, owner of The Wine Bar on Palafox Street in downtown Pensacola, are offering 5 percent of revenues, construction of a ticket gate and relocation of the ADA ramp to the east side of the building to better invite the public to the facility.
Pasco Gibson Jr, who owns Nichols Seafood in Milton and previously won the bidding process but wasn't ultimately contracted to operate the pier, teamed up with current pier employee Dominic Galliano III. They're offering hands-on management, installation of palm trees and the highest revenue percentage of all bidders at 7 percent.
There are also some new vendors competing to run operations:
Ken Walters of Johnny Huston's Grille and Bar and his general manager, Steve Mobley, along with their sons, Corey Mobley and Huston Walters, are offering to remodel the facility, provide fresh seafood and uniformed employees and focus on improving cleanliness, especially in the restroom area. "Our vision is to invest long term in order to properly enhance the current guest experience at the pier for fishermen and for all guests alike. With all four of us having extensive knowledge about how to properly run an established restaurant, we feel suited to take over operations for improvement," Corey Mobley said.
Larry and Jerry Rolinson, owners of Ye Olde Brothers Brewery in Holley are partners in the newly-formed Growing Santa Rosa Enterprises, LLC. Their bid offers to provide 5 percent of revenues and an extra one percent on admission fees. They propose a BBQ and seafood restaurant featuring their crafted beer, fresh pastries from Milton Quality Bakery and a "fishing coach" who would be paid by the hour to help novice anglers.
8599 Navarre Pier, LLC is a group of Santa Rosa County ladies who have lived in the area over the past three years, although some have "vacationed here for decades." They're asking for a 20-year lease and offering 5 percent of revenues, construction of a ticket sales counter at the gate and installation of the recently removed Navarre Beach welcome sign at the entrance. The group also proposes an Airstream food court.
Navarre Beach Pier, LLC is a group of local businessmen, including Steve Hering, Chuck Pohlmann and Claude Duvall. They're offering 6 percent of revenues and a new bait and tackle area on the east side of the pier and a vendor marketplace featuring pop-up tents in the current fishing pier parking lot.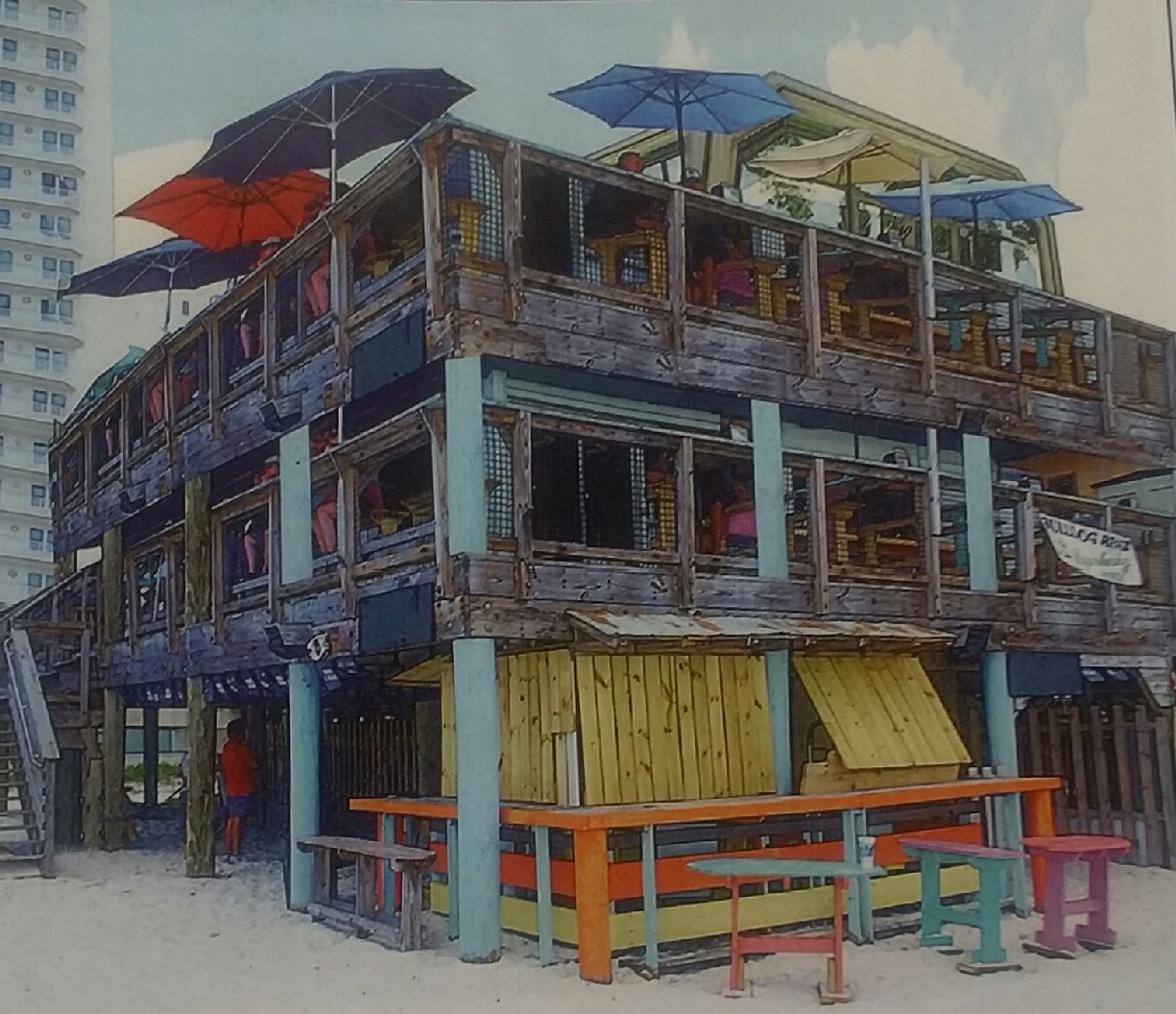 Rendering from Navarre Beach Pier, LLC's proposal
Navarre Beach Management, LLC consists of four Santa Rosa residents: Brian McKinney, his wife Nancy Greene, Linver Leffel and Karen Edwards. The group offers to return 75 percent of pier admissions to the the county and retain 25 percent to operate the pier gate, maintain restrooms and fund electronic payment fees. Their proposals offers to introduce Maverick Board Riding Company, a company McKinney co-owns, to the pier store, offering a variety of surf and paddle boards and other items from local vendors.
Santa Rosa County Procurement Officer James Walters on Monday said it could be up to eight weeks before a vendor is selected by county commissioners. Public presentations are expected to take place before commissioners make their decision ahead of the December 31 expiration of the current pier operations contract.