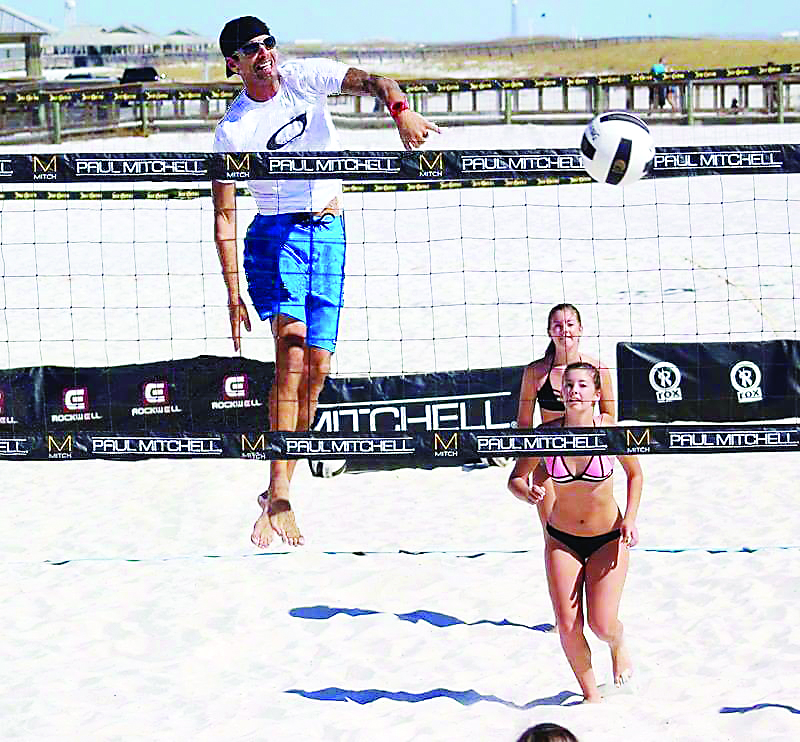 Professional and semi-pro volleyball players from across the Southeast are traveling to Navarre to play in Saturday's Southeastern Volleyball Tour Season Opener at Navarre Beach Fishing Pier.
The event is one of two Association of Volleyball Professionals league events planned for Navarre Beach this year.
"We have the AVP league coming twice this year, which is a big step for Navarre Beach," said Santa Rosa County Tourist Development Director Julie Morgan.
According to Navarre resident Judd Smith, who is serving as a tournament director this weekend, players from Florida, Alabama, Mississippi, Tennessee, Louisiana, Georgia, Mississippi, Alabama and other parts of Florida are registered on roughly 30 teams which will be competing.
"We're looking to even larger volleyball events in the future which will draw in people from many states that follow and play the sport. These type sporting events help increase awareness of our destination, they increase bed tax revenues by overnight stays," Morgan said.
Attracting AVP events has been a goal for Smith, a former professional volleyball player, who has been working for three years with current pier operator Coastal Concessions to develop the Navarre Pier Beach Volleyball Program.
When Coastal Concessions first took over pier operations in 2014 there was only one volleyball court. Since then, working together with Smith, they have added six permanent courts and two temporary courts.
But it's not just about luring pros and tournaments the area.
Smith's program also includes youth leagues, and three of his former players have gone on to play volleyball at Division 1 Colleges.
"Judd is an advocate for the sport but he's a bigger advocate for the youth," said Scott Rayner, a partner in Coastal Concessions. "He's always doing youth programs and tourneys and works closely with the Navarre High School volleyball team."
Smith noticed the lack of school-based middle school sports programs in our area, so to help fill that need, he started junior volleyball leagues which kick back off at the pier courts, starting at 6 p.m. on Thursday nights, beginning April 6. Cost is $20 per person for the five-week league.
"We have some very talented, young volleyball players in our area…It's definitely a blessing, and I'm grateful every day to able to do this," said Smith, adding, "The AVP coming to Navarre gives the kids a goal to aim for."
Want to go?
The Southeastern Volleyball Tour Season Opener tournament starts at 8 a.m., Saturday, March 18 at the volleyball courts adjacent to Navarre Beach Fishing Pier, located at 8579 Gulf Boulevard. Spectators can watch the action from above at Lagerhead's on the Gulf or bring chairs and watch courtside.