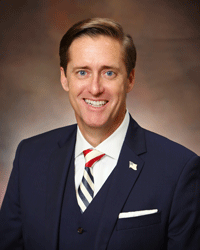 Santa Rosa County Commission Chairman Rob Williamson is pushing to create a Master Plan for Navarre to help guide the community's short- and long-term development.
Williamson said he wants residents to not only engage in the process but also use it to dictate the future course of Navarre.
"A master plan helps identify the will of the people, and it helps protect the will of the people. Because it's the people who create it," Williamson said.
The Navarre Area Board of Realtors also favors creation of a master plan, said NABOR Executive Angela Campbell.
"With the rapid increase in development that we are experiencing, it is vital that a framework is put in place that protects all that we cherish, but that provides for our inevitable continued growth," Campbell said.
According to Santa Rosa County Senior Planner Cynthia Cannon, during 2015 nearly $219 million was spent on residential and commercial construction, and around one-third of all new construction takes place in Navarre.
"The creation of a master plan will aid in facilitating the vision of the community and address the challenge of developing a plan that realizes Navarre's full potential," Cannon said, pointing out some "major" changes planned for the area over the next several years, including, six-laning of U.S. 98, a new high school and a new K-8 school.
Williamson said a third-party firm could be selected by August to start creating the plan.
Additionally, during the May 6 season opening of the Panhandle Butterfly House in Navarre Park, Williamson unveiled the rendition of that park's master plan, which includes a new Butterfly House facility located closer to the existing Santa Rosa County Visitor Information Center, expanded parking, a waterfront stage and performance area, veteran's memorial walkway, new playground and interactive water play area, trellis swings and new picnic table shelters.
In addition to discussing the master plan, this week's county commission agenda also included:
A resolution supporting the efforts of Congressman Matt Gaetz to enhance the Gulf Test Range, which Gaetz says will help the effort to reopen Navarre Pass
A recommendation to negotiate with David H. Melvin, Inc to provide landscaping for the Hwy 87 S beautification project and acceptance of a $275,000 agreement with the Florida Department of Transportation to landscape an additional segment from East Bay Boulevard north to Holley Point Road.
An additional $4,671,172 in federal grant funding for the Settlers Colony Drainage Expansion Project.
Potential ways to allocate revenues generated through the additional half cent local option sales tax approved last fall by voters.