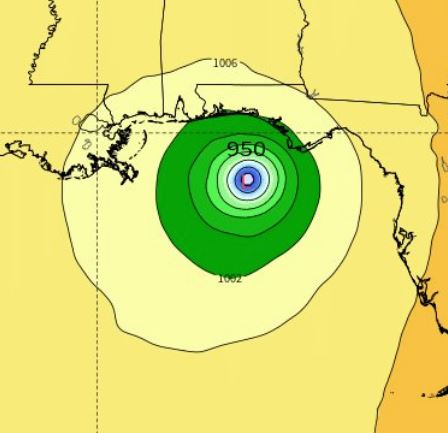 The European Center for Medium-Range Weather Forecasting (ECMWF) model guidance suggests a roughly 950 mb central pressure prior to landfall
Santa Rosa County Superintendent of Schools Tim Wyrosdick said a course of action for Tropical Storm Michael will be set tomorrow after a 10:30 a.m. briefing with emergency management officials.
"It appears to be a Tuesday night/Wednesday event," Wyrosdick told South Santa Rosa News.
Dr. Ryan Maue, a research meteorologist with weather.us, stated Tropical Storm Michael could become a "powerful" hurricane before making landfall.
"Sea-surface temperatures are still very warm in the Gulf," he said, adding that ECMWF model guidance suggests Michael will strengthen rapidly, starting on Tuesday, as it traverses the central Gulf of Mexico.
In addition to warm water, Maue said decreasing wind shear could fuel further intensification.
"The main negative for stronger hurricanes in the Gulf especially in October is deleterious vertical wind shear. With the seasonal change into autumn, upper-level winds e.g. jet stream are much stronger than mid-summer and can tip over or shear apart developing storms," Maue said. "However, the wind shear is expected to abate and instead provide an exhaust mechanism aloft to enhance the intensification of the storm."
ECMWF guidance indicates a 944 mb Central Pressure prior to landfall.
By comparison, in 1995 Hurricane Erin's peak intensity was 100 mph and 973 mb and Hurricane Opal maxed out at 150 mph and 916 mb. Hurricane Ivan in 2004 reached 165 mph with a central pressure of 910 mb.
"Based upon the model trends, location and time of year, Hurricane Opal from 1995 immediately comes to mind. Over the next 24-48 hours, we will have a better idea about the intensity at landfall primarily based upon the ability of 'Michael' to rapidly develop initially," Maue said.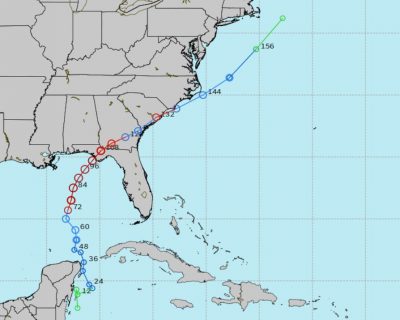 Presently landfall is expected on the Florida Gulf Coast near Panama City, according to Maue.
However, emergency management officials stress than residents in our area should continue to monitor the storm's path, which could shift.
The National Hurricane Center's 1 p.m. CDT advisory reported T.S. Michael was stationary with 40 mph sustained winds and higher gusts and a central pressure of 1004 mb. Currently Tropical-storm force winds extend outward up to 200 miles from the center.
The National Hurricane Center's next advisory will be issued at 4 p.m. CDT.