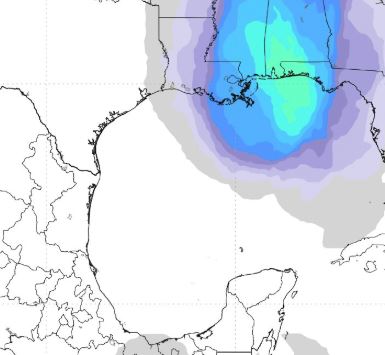 Graphic by @weathermodels.com 

A slow-moving, low-pressure system expected to enter the Gulf of Mexico later this week has been upgraded 
to Invest 90-L.

"When you go to a numbered invest, several resources kick in, including special tropical model runs, 
increase satellite surveillance, 'spaghetti' plot maps and possible AF recon missions," stated Meteorologist 
Rich Thomas, who said European computer models forecast the probability of a Tropical Depression over the north 
central Gulf at 50-60 percent with a 20-30 percent chance of Tropical Storm development.

Per NHC, locally heavy rainfall is the main threat across western Cuba & Florida during the next several days.

"Areas in the central and eastern (Gulf of Mexico) and deep south face a flood threat with slow moving evolving 
showers and thunderstorms," stated Meteorologist Jim Cantore.

Presently the broad surface low is centered just east of Belize and producing a large area of cloudiness and 
showers extending from the northwestern Caribbean Sea across Cuba into the Florida peninsula, according to NHC. 

The NHC May 21 update stated that some gradual subtropical or tropical development is possible late this week 
while the system moves slowly northward into the central or eastern Gulf of Mexico. 
* Formation chance through 48 hours...low...near 0 percent.
* Formation chance through 5 days...medium...40 percent.

Following is information provided this morning by Santa Rosa County Emergency Management staff:



Flash Flooding
Recent rains have moistened soil conditions. Should this system bring heavy rains to our area, the potential 
for flash flooding will exist. At this time, the period of concern for flash flooding appears to begin early 
Saturday and continue through Sunday night.

Coastal Flooding
This is likewise dependent on the potential development and movement of the system, but we see at least a 
potential for minor coastal flooding as early as Friday night with a greater potential for Saturday into 
Sunday. High surf conditions are also likely.

Rip Currents
A moderate risk of rip currents expected today, with moderate to high risk of rip currents remaining 
probable through this weekend.

Wind
Due to uncertainties, it is too early at this point to provide guidance on this. Please stay tuned for updates.