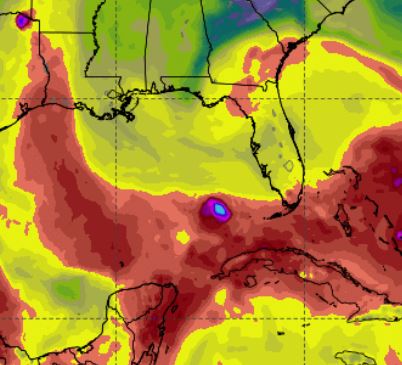 European model graphic by weathermodels.com for October 12
The National Hurricane Center's 8 a.m. EST update states that a low-pressure system on the eastern border of Honduras and Nicaragua has become "more concentrated" during the past several hours.
Meteorologist Ryan Maue of weathermodels.com forecasts a weak area of low pressure forming next week in the Gulf of Mexico.
"However, wind shear is strong and this model scenario does not yield strong development — only a tropical storm into northern Gulf coast," Maue stated.
NHC has upped the chance of development of the disturbance through 5 days to 60 percent.
"Although strong winds aloft are located just to the north of this system, the upper-level environment is expected to be conducive enough to allow slow development, and a tropical depression could form by late this weekend or early next week over the northwestern Caribbean Sea or southern Gulf of Mexico while the system moves slowly northwestward," stated NHC Forecaster Jack Beven.
According to Beven, the disturbance will continue to bring "torrential rains" to portions of Central America and the Yucatan peninsula over the next few days.
The next storm to form will be named Michael.
Following graphic by weathermodels.com depicts geopotential height for Oct 9