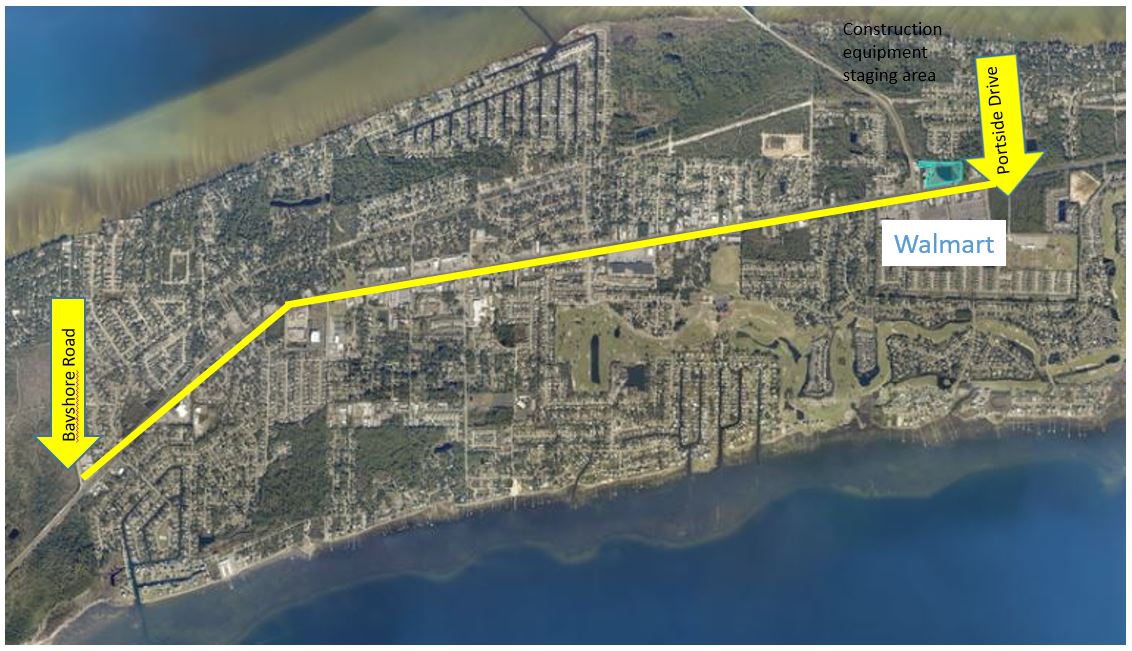 The $70.4 million U.S. 98 widening project will start this summer, but early construction activities have already begun. Construction equipment is being staged at a parcel owned by the Santa Rosa Bay Bridge Authority and located on the northside of U.S. 98 adjacent to Mike's Garden Center. The yellow line depicts where the 4.25-mile construction will take place.
Although recent steps have been taken by the Florida Department of Transportation to improve the flow of traffic along the Pensacola Bay Bridge detour route, a major U.S. 98 widening project planned to start this summer could cause more headaches if Skanska doesn't meet its Memorial Day goal to reopen the damaged span.
A newly installed temporary traffic signal, aimed to alleviate congestion north of Garcon Point Bridge at the intersection of Avalon Boulevard and Garcon Point Road, will switch from a flashing yellow to active around 10 a.m. today.
Additionally, the southbound westward turn lane from Garcon Point Bridge onto U.S. 98 was recently extended.
However, FDOT has announced that early construction activities are beginning now in preparation for the widening and improvements along a 4.25-mile section of U.S. 98 (SR 30), mostly along the current detour route, from Portside Drive, just east of Garcon Point Bridge, to Bayshore Road, near the entrance to Gulf Islands National Seashore's Naval Live Oaks Reserve Area.
FDOT says crews are currently focused on utility relocations, clearing trees and shrubs, excavation, and drainage improvements. These activities include utility relocations, clearing, excavation, and drainage improvements.
As part of the upgraded drainage system, the project includes construction of five stormwater ponds. Clearing and excavating of areas for the stormwater ponds are currently underway.
While there are no traffic impacts associated with the construction of the ponds, nearby residents and businesses may experience some noise. Access to residences and businesses will be maintained at all times.
A parcel on U.S. 98 owned by FDOT on the north side of the U.S. 98, just east of Mike's Garden Center, is being used to stage construction equipment for the project.
Per FDOT, major roadway construction activities on the $70.4 widening million project are anticipated to begin in summer 2021 with an estimated completion date of fall 2024.