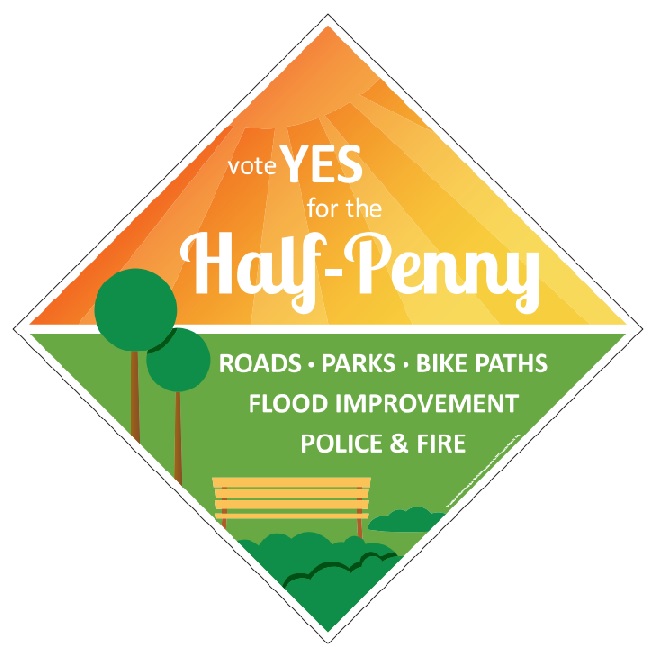 A new citizens group that wants Santa Rosa County voters to support an increase in the sales tax to fund a new courthouse and other projects is asking the County Commission to make the process as transparent as possible.
Ed Carson, Pace resident and chairman of a political committee called Moving Santa Rosa Forward, urged commissioners to make sure citizens are confident that the money to be raised by two tax increases on the Aug. 30 primary ballot will be used as it is intended.
The ballot will include two questions asking voters to support Local Option Sales Taxes – or LOST. One question would impose a half percent sale tax to support building a new courthouse in Milton, while the second would create another half percent sales tax to fund other capital projects, including the purchase of additional sheriff's patrol cars, storm water projects and other needs.
Both taxes would sunset at the end of five years.
"What we hear is a lot of questions with regard to how is the money going to be spent, and what is the procedure for prioritization of the different projects," Carson said.
Carson recommended that the commission promise to do three things to help citizens feel more comfortable with the taxes:
Provide input into formulating a clear and predictable process for project prioritization and funding.
Make annual recommendations as to prioritization of future projects and expenditures funded with LOST proceeds.
Make annual reports to the citizens regarding the use of the revenue generated from the LOST.
"We recommend y'all set up a committee of citizens … and empower them to do those three things," he said. "We think it's vitally important to getting the message out that this is going to be an open and transparent process."
Commissioners liked the group's ideas.
"If the Local Option Sales Tax for infrastructure is approved, it would literally change the path forward for Santa Rosa County," Commission Chairman Lane Lynchard said. "It would enable us to make improvements to our infrastructure and quality of life that we're just not going to be able to do otherwise.
"It's vitally important to have that as open and transparent and seamless as possible. I think the establishment of an advisory committee is certainly something we should look into."
Carson recommended the committee include two representatives from each commission district. Lynchard suggested possibly adding representatives from the various chambers of commerce around the county.
Lynchard said he hopes to have a formal structure for an advisory committee ready for adoption later this month.
Moving Santa Rosa Forward was formed on April 4, 2015, with the stated purpose of "advocacy of local option sales tax," according to forms filed with the Santa Rosa County Elections Office,
Milton resident Francis Riehle is listed as the group's treasurer.
According to the Elections Office, the committee has received $20,200 in donations, including $10,000 each from Terhaar & Cronley contractors/builders and contractor Edwin Henry. Carson, who is also a contractor, has donated $200.
The committee has spent $10,000 so far, to Jacksonville-based company Barcelo & Co., for research. Carson said pro-tax signs will soon be going up around the county.
The group's website is http://www.movingsantarosaforward.org/.
Those opposed to the tax measures, however, are not sold on Moving Santa Rosa Forward's objectives.
"So a group of builders and developers are spending tens of thousands of dollars to convince us to raise taxes on ourselves," said Navarre resident T.J. Goulet, adding, "Our County is sitting on huge reserves, just got $6 million from the state for beach restoration and doubled the gas tax last year to replace lost state revenue that wasn't lost.  Where are those millions going…and if the builders want sidewalks and drainage for their developments, reinstate impact fees to pay them…that is what impact fees are for."
Goulet also opposes the 1/2 cent sales tax for the courthouse. "We need a new courthouse.  We don't need a $47 million courthouse built on the swamp land behind the old courthouse with no parking and terrible traffic issues," he said.
Also on Monday, commissioners appeared ready to renew Coastal Concession's contract to operate the Navarre Beach Gulf Pier for one year. The company has held the contract to operate the pier and adjoining store/restaurant since Jan. 1, 2014. That contract expires on Dec. 31, 2016.
The contract allows for two one-year extensions, at the agreement of the county and the business.
"We've been there for 2 ½ years," said Coastal Concession's Scott Rayner. "That's not a lot of time. We've cleaned it up. We have made it into a family-friendly environment."
Commissioners Lynchard and Salter both praised Coastal Concession's success and endorsed a one-year extension.
Commissioner Rob Williamson, however, had reservations because of past issues with late remittances, Coastal Concessions' recent sublease to a third party for a portion of property at the pier, and other problems between the county and the business.
"This is going to be a tough one for me," Williamson said. "A one-year extension would provide that opportunity to cement your credibility and possibly receive that next extension. Any mishaps between now and then, it would be very difficult for me to defend Coastal in front of Santa Rosa County residents."
Williamson, Lynchard and Salter were the only commissioners at Monday's meeting. Commissioner Bob Cole was absent, and the District 1 seat is currently vacant following the recent resignation of Commissioner Jayer Williamson, who left the commission to seek a seat in the state Legislature.
Bear issues in South Santa Rosa County were also on the commission's agenda Monday morning.
Tiffany Ackerman, state committee chairwoman for Imagine Our Florida – a non-profit group dedicated to preserving Florida's natural resources – urged commissioners to adopt regulations requiring some residents in South Santa Rosa County to use bear-resistant garbage cans.
The Florida Fish and Wildlife Conservation Commission reports that 6 percent of bear conflict calls in Florida come from Santa Rosa County.
"The southern part of the county is where most of the issues are. It's trash related, mostly," Ackerman said. "There's not a lot of habitat left, and that includes their food source, so they're coming in to neighborhoods."
Bear-resistant garbage receptacles cost an average of $6 to $8 per month to rent, she said.
"They're very low cost," Ackerman said. "FWC has done surveys. People want these trash cans. They don't want to see the bears killed. They want a solution."
Ackerman said that $300,000 from generated by last year's bear hunt available to counties to help cover the cost of bear-resistant cans.
"We're not eligible for state funding unless we have some type of ordinance," Williamson said.
He asked County Attorney Roy Andrews to look at a recent ordinance adopted by Lake County that is shorter and less intrusive than one adopted in Seminole County, which commissioners rejected earlier this year.
In other business, commissioners gave preliminary approval to the 22nd Annual Christmas in the Park, to be held at Navarre Park on Dec. 3, 2016.
Generally, commissioners discuss items at committee meetings on Mondays with decisions coming at the regular meeting the following Thursday. The meeting on Thursday, July 14, is set for 9 a.m. at the Administrative Office Complex.
On Thursday, commissioners will conduct a public hearing on an ordinance amending the rules that govern public parks, especially those on Navarre Beach.
The proposed changes include allowing alcohol to be sold on the beach, in some circumstances, as well as allowing parking lots of be used for special events, banning all pets except for service animals and allowing parks to be used for commercial purposes when approved by the County Commission.
Also on Thursday, the Zoning Board will meet at 6 p.m. at the Administrative Office Complex.
Items on that agenda include a request from Synovus Bank to reduce setback requirements for a 9 acre parcel on White Sands Boulevard on Navarre Beach to allow for more single-family homes to be built than would be allowed under current zoning rules. The changes would allow 12 homes