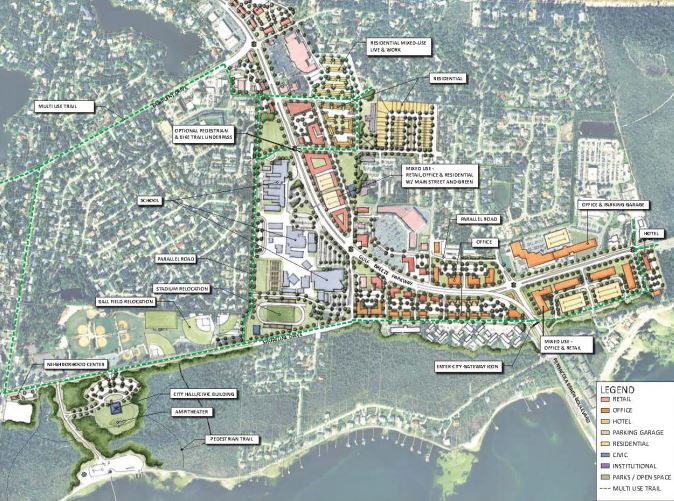 Gulf Breeze City Manager Samantha Abell in a Triumph Gulf Coast funding application is seeking $15.8 million to redevelopment the U.S. 98 corridor area, relocating Gulf Breeze High School stadium and baseball/softball fields to accommodate around 300,000 square feet of retail and restaurant space and up to one million square feet of office space.
Per the application, the project's goal is to prepare a site ready for Town Center development as envisioned in the City of Gulf Breeze Most Livable City Master Plan.
The portion of land identified for infill redevelopment is comprised of 18.772 acres of Santa Rosa School District property along Highway 98 consisting of Santa Rosa County School District athletic fields. Additionally, a vacant 3.738 acres of outparcel property behind the Wal-Mart Center would be necessary for redevelopment.
According to Abell, the City and Santa Rosa County School District will swap land for the purpose of developing a Town Center comprised of 260,000–300,000 sq. ft. of restaurant and retail space and 900,000–1,000,000 sq. ft. of office space in the heart of Gulf Breeze. The relocation of the ball fields to City property will require the demolition and relocation of City Hall to adjacent library property, for a new City Hall which combines both the library and City Hall administration.
Total costs for the proposed infill redevelopment add up to $21 million. The application states the city has the ability to finance a portion of the capital improvements and offered a 25-percent match.
All Facilities Demolition – $1,600,000
Construct New Softball Field – $500,000
New City Hall – $10,400,000
Construct New Baseball Field – $750,000
Football Stadium – $5,000,000
10 foot wide Trail – $340,000
12 foot wide Trail – $1,300,000
Land Acquisition – $1,200,000
Project Total: $21,090,000
Total Request of Triumph: $15,817,500 (75%)
Summary Timeline:
2019: Property Acquisition
2020: Facilities Demolition
2020: Infrastructure Construction
2021: Facilities construction completion
(City Hall, Library, and Gulf Breeze High School
Athletic Fields)
2022: Project completion
Additionally, the city submitted a second application to develop a medical technology park on 9 acres at the current site of Live Oak Shopping Center across from Baptist Hospital. That $20 million proposal also includes a $5 million match from the city and features a frontage road and pedestrian walk-over.
Santa Rosa County Commissioners approved both projects as "priority" projects for the first found of Triumph funding, providing a letter of endorsement.