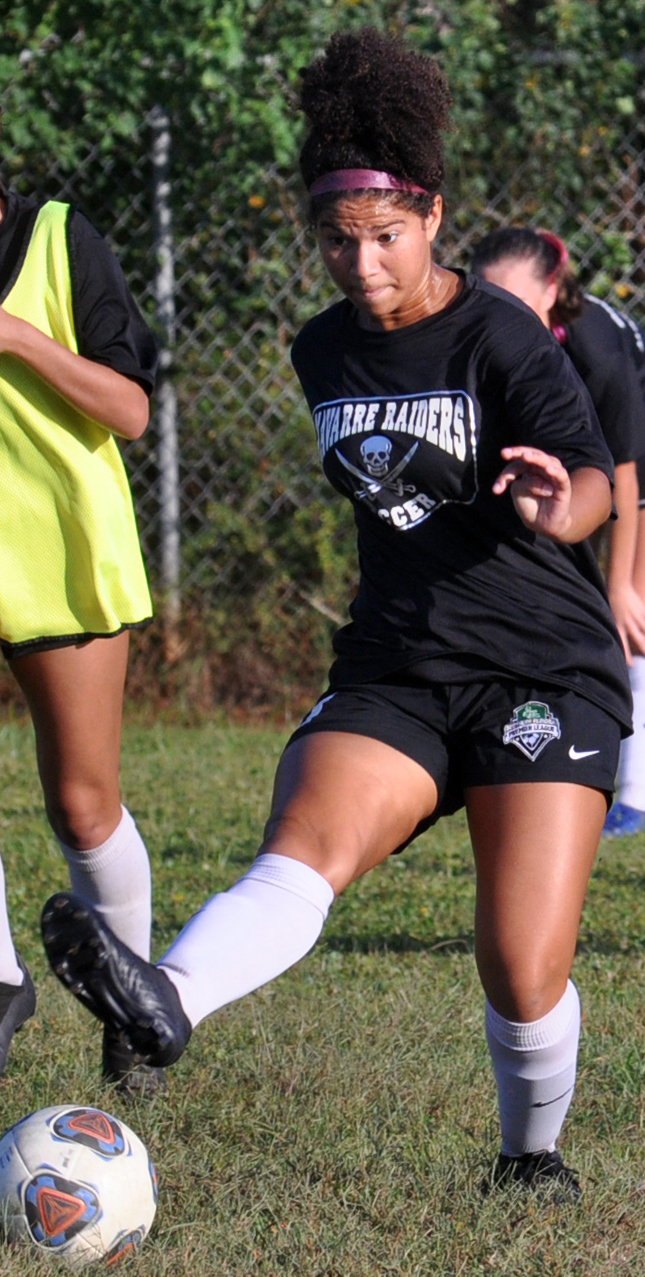 Senior Emma Simon knocks a pass forward during varsity soccer tryouts Oct. 21. (Photo by Stuart Camp)
Twenty-two players made the Navarre girls' varsity soccer squad, and now they're getting ready for a full 21-game, 2020-2021 schedule.
Head coach Rob Simon held a three-day tryout Oct. 19-21. By the third afternoon of tryouts, his decision was made. The next day, he announced the varsity selections.
"This team is young. Going into tryouts I wasn't 100 percent sure what the makeup was going to be – if we're going to have a lot of older girls returning that had experience with the JV and varsity program," Simon said. "We do have a lot of seniors on the roster, but also three new goalkeepers and three freshmen that really showed well. It's a nice mix-and-match of youth and experience, but it's relatively young in terms of experience overall."
Eleven veterans from last year's district-champion team made the roster. This includes Megan Kirby and Cami Acevedo.
"All of the returners have done something, gotten better," Simon said.
Kirby remains a fixture on the attacking line.
"I think we have a lot of new players that are going to bring a different aspect to the team this year. And I'm just grateful also to be able to play during COVID," Kirby said. "We're all new at this stage, so it's going to take a while to just to get it together. It's exciting. We're like the leaders. We have to step up and lead our team to do better than last year."
With the graduation of two key defenders, Simon has moved Acevedo from the attacking forward position to anchor the Raider defense at center back.
"It's been pretty difficult trying to tap into a more defensive mind," said Acevedo, who was introduced to the new role with her off-season club team. "So far, for tryouts, it's a whole different level of play."
They'll get the action rolling with two pre-season games the first week of November. They'll tangle with the Gulf Breeze Dolphins at 5 p.m. Nov. 4 and the West Florida Jaguars at noon Nov. 7 on the Navarre Youth Soccer Association fields.
Their work is cut out for them. Gelling as a team and getting into game-shape commands Acevedo's immediate attention.
"I think on a fitness level, that's where we're really slacking. But that's the only thing we're lacking right now. But as we go through the two weeks before preseason, we'll be more like we should be," the senior said.
For their season opener, they'll be on the road for a 7:30 p.m. kickoff Nov. 10 against the Tate Aggies. Their 19-game regular season schedule runs through January with district playoffs the first week of February.
"It's going to be one of those things that I can't control what happens with other schools, the health department, and the classrooms.," Simon said. "The nice part about it is … the kids can play anywhere on the field. I can take a defender and put them at forward, and vice versa. I would like to play, and if it means moving kids around within the framework of our team, we're going to do it."
They will be in the same district lineup, facing Tate, Niceville, and Pace.
The Lady Raiders roster:
Cami Acevedo
Rae Anna Askfeldt
Selissa Bly
Adreahnna Busch
Solaina Foster
Lille Golden
Kayla Johnson
Katie Kauth
Emma Kirby
Megan Kirby
Maddie Laina
Kaitlyn Lawson
Bella Martin
Kaleigh McCullough
Abbey Nebarez
Regan Rudzki
Emma Simon
Daysha Taylor
Erin Travers
Maia Vacks
Hunter Wallace
Aubrey Walls