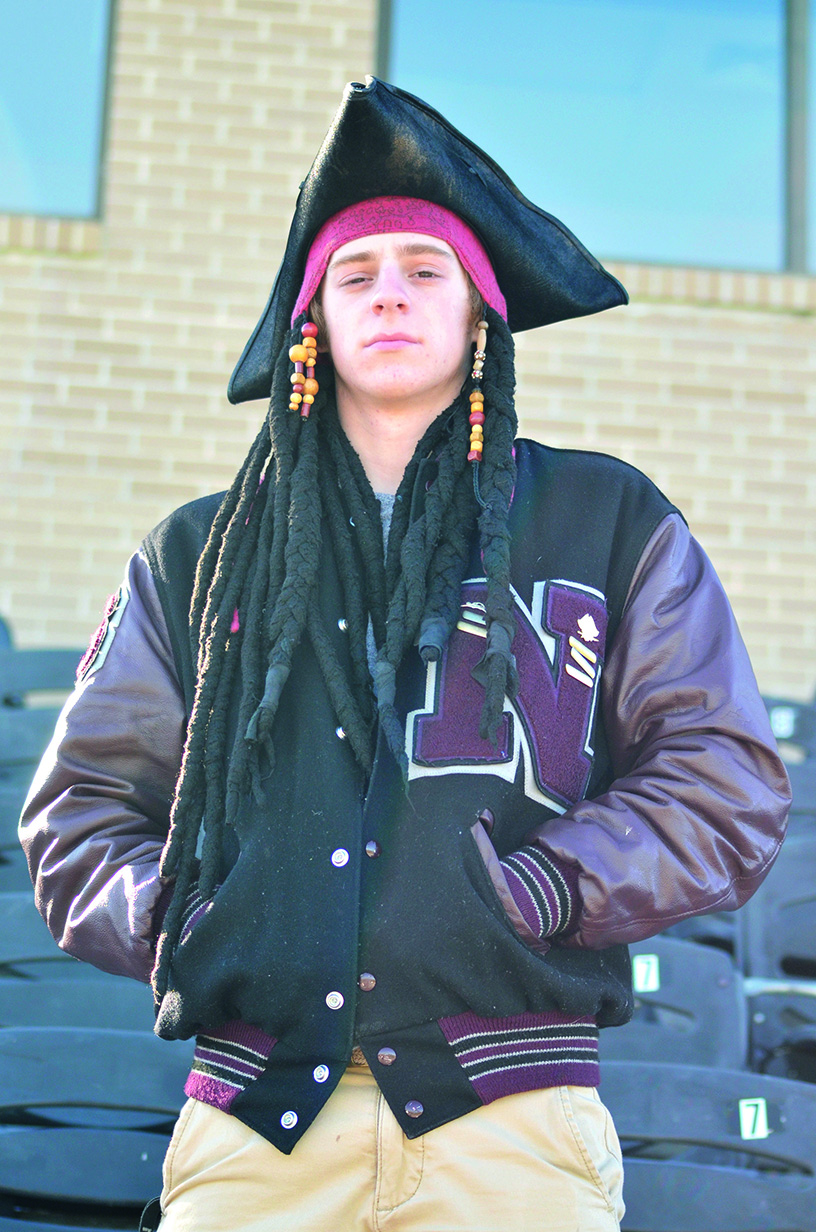 Sitting on the football field after Navarre High School's 23-22 quarterfinal loss to Tate High School, war paint smeared from the tears running down his face – this was when Navarre's mascot Andrew Townsend realized how important his role was at the high school.
"Even though it is one of my worst memories, I never realized how much I like mascotting — how much I loved supporting my school and stuff like that, and I kind of showed myself with that game," Townsend said. "There was not a second of silence; our student section was just chant after chant, fourth quarter we just went all out. No one had voices come the next day."
Townsend is a personable teenager and has no shortage of energy, self-described as a "fairly spirited person," it seems natural that he would throw on the eye patch and don the costume to become the Navarre High School Raider his freshman year. However, it was not just his personality, but the classic strive to find a place to fit in going into high school that originally led him to try out for the position.
"You know everyone going into high school has a view of how high school is and they're all scared of cliques and stuff like that, and that isn't really how it is at all. But going into high school I had no idea what to expect and wanted to be a part of something," Townsend said.
"I wanted to do something bigger than just be a kid that attends the high school and I'm not the best at sports or anything and I'm a fairly spirited person, so I thought I could be a mascot. I could lead the student section and stuff like that, and that's kind of what happened."
Townsend revived the mascot program at the high school, being the first to personify the Raider after a six-year hiatus. In the summer before his 9th grade year, Townsend reached out to Navarre Principal Brian Noack and inquired as to whether or not there was a mascot because he was interested in the position. Noack confirmed the existence of a program at Navarre, but could not remember the last time the spot had been filled and told Townsend he would get some information together.
"So about three weeks before my freshman year I got a call from Mr. Noak telling me that there was going to be tryouts – mascot tryouts – and gave me all the information," Townsend said. "I kind of expected there to be a lot of people, but I showed up and there was five other people and then me trying out," he said with a grin.
With the rebuilding of the mascot program came the rebuilding of the costume, and a kind effort by Andrew's mother Tracy Townsend turned into a new tradition for Navarre cheer team. When Townsend was announced as the mascot and realized the outfit needed a bit of revamping, Tracy bought him a dreadlocked wig to go along with his Party City pirate costume.
Townsend said he wore the dreads for the first game, the cheerleaders rubbed them for good luck and the team was victorious. After that, every time the team lost it was either because the dreads were not present or the cheerleaders never rubbed them before kickoff.
So when cheerleader Emily Gordon's mother made a new costume during Townsend's sophomore year, the squad decided the new dreaded wig would not compare to the original after they lost to Pensacola Catholic in its' debut. Luckily, Gordon is a talented seamstress and detached the dreads from the old bandana, sewed them onto the new cap and solved the problem – possibly getting Navarre to the Regional semifinals in 2013.
In addition to spending his entire high school career as the Navarre Raider, Townsend is a class senator in the student government association, is on the class board and has been a member of the swim team for the last three years. He has dual enrolled since the second semester of his junior year at Pensacola State College and is in the top 100 of his class at Navarre with a 3.8 GPA.
Out of school, he is focused on normal teenage-related things like working out or playing pickup sports and FIFA with his friends. He also enjoys hanging out with his girlfriend Catherine Baccarini, and says they spend a lot of their free time together after dating for a year.
Baccarini plays soccer for the girls' team at Navarre, but was sidelined this last season with a torn ACL. Townsend met Baccarini his sophomore year at Relay for Life, but got to know her better in his junior year when he developed a crush on her. He told me that he wanted to do something to win her over and it was ok if the secret reason why he started going to the girls' soccer games in costume were to get out.
"So all of a sudden last year, just out of nowhere there was just this huge flood of support for the girls' soccer team and a lot of that has to do with me having a crush on her," he said as he laughed. "I went out there to try and support the girls' soccer team and kind of impress her or get her attention.
"You know, I just brought a lot of my friends with me and stuff like that and so girls' soccer got a lot of support these last two years," he said.
Townsend lifeguards at Holley by the Sea and is currently saving up money for college. He wishes he could go to his dream school Harvard, but realizes he is on his own financially after high school and cannot afford it. He has yet to narrow down a second choice, but would be interested in studying something related to computer engineering or sports medicine.
"I really want to do something with computer engineering because it is a very prominent thing, and in this day and age with tech every company, every corporation is going to need an IT guy or someone good with technology."
Regardless of where Townsend decides to spend his next four years of school, he made it clear that he probably wasn't going to get a scholarship for mascotting due to the rarity, but may try out as a walk on. Even if the costume is destined to be pushed to the back of the closet, it is evident that the experiences he has had as the swashbuckling spirit-driver for Navarre's fans and students will never be left on the shelf.