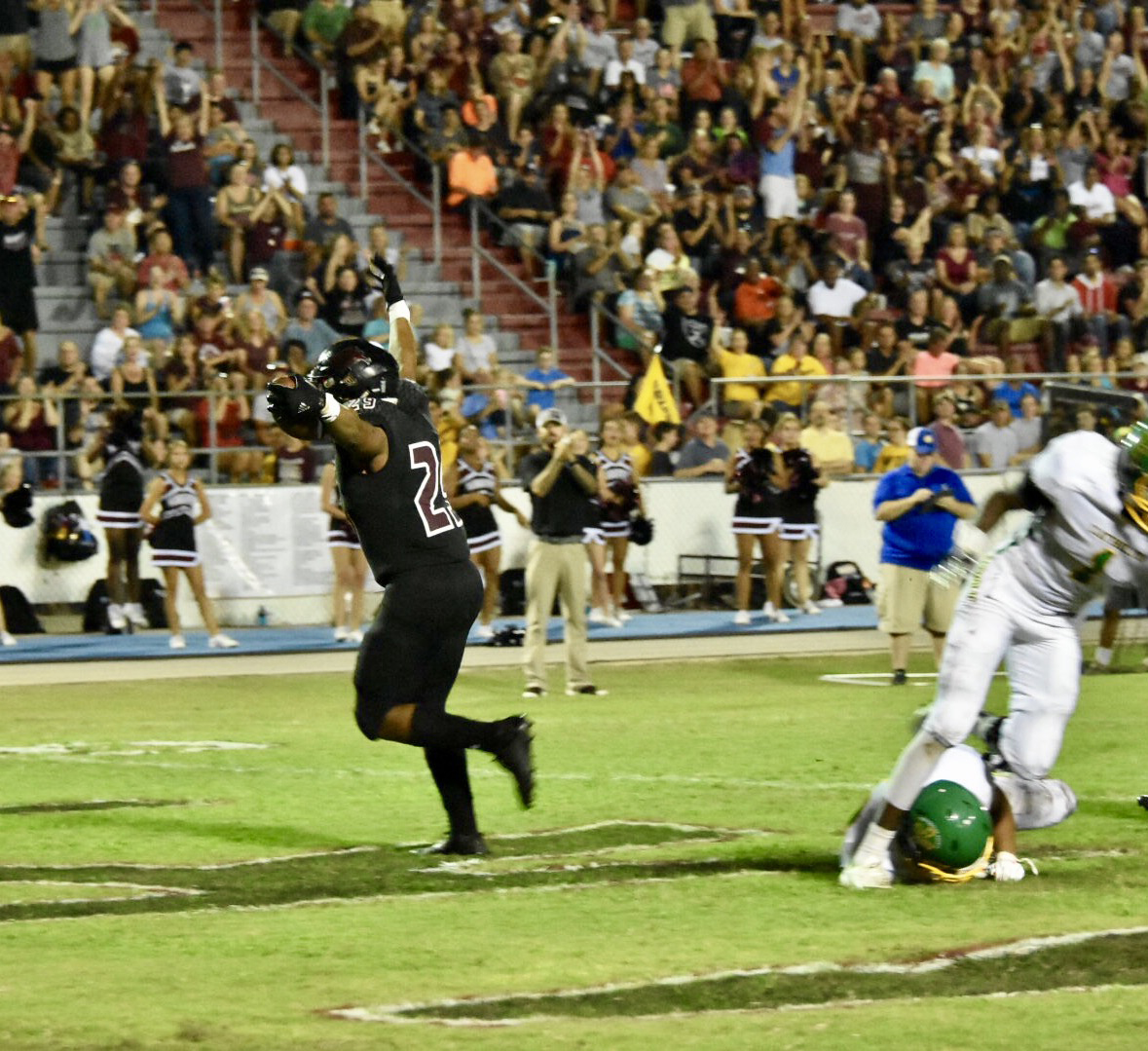 Photo by Tammie Norton
Omari Green made three rushing touchdowns Friday night
The Navarre Raiders faced the Pensacola Catholic High School Crusaders last Friday for the first official game of their 2017 season and took control early on. Even though Catholic attempted a second half comeback, the Raiders were able to soundly put Catholic away 56-35 in the end.
Thanks to Dante Wright and Omari Green, the offensive line and Navarre's run game, the Raiders had an answer to every Catholic score and then some.
Dante Wright was extremely effective when attacking the edge of Catholic's defense in both the pass and run games, causing Catholic to have to stretch extra defenders toward the sidelines in order to defend it. That paired perfectly with Omari Green, Chris Williams and even Sage Chambers interior running abilities. So while the Raiders didn't have to pass the ball much to do so, they were still able to keep Catholic's defense honest and control the game with a variety of electric rushing options.
Navarre won the toss and differed, allowing Catholic to receive the ball and the Raiders' defense to take the field first. Despite Catholic scoring a touchdown on their opening drive, the Raiders would continue the trend of dominance that they started during the first half of last week's Kickoff Classic against Lawton-Chiles once they took the field on offense.
With 6:21 left in the first quarter Navarre's Omari Green took a handoff up the middle and plowed his way to pay dirt for a long touchdown run. This run would turn out to be a heavy dose of foreshadowing of what was to come for the fans of the Raiders.
Navarre's run game was as close to unstoppable as it comes. The offensive line won its battles time and time again Friday night, allowing Omari Green and Dante Wright to both easily surpass 100 yards rushing. Dante Wright added even more yards to his all-purpose totals with a few big kick returns, an ankle-breaking punt return to Catholic's 26 yard line and a couple of timely catches.
Omari Green would notch another touchdown coming on the tail end of Cade Taylor intercepting and ending Catholic's attempt at a two-minute drill with the clock winding down in the first half. Thanks to two earlier rushing touchdowns from Chris Williams, the Raiders took a 28-14 lead into halftime.
Navarre opened up the second half with Dante Wright taking a speed sweep handoff over 60 yards for a touchdown to put Navarre ahead 35-14.
After Navarre pushed the lead to 21, Catholic made a little bit of a comeback by scoring a couple of consecutive touchdowns, cutting Navarre's lead to only seven twice in the second half.
Navarre and Catholic traded off a few long touchdown runs before Sage Chambers and Dante Wright connected for a huge third down conversion. One play later this turned into another explosive handoff to Dante Wright for a touchdown to push Navarre's lead back to a comfortable 14 and swing the momentum heavily back into Navarre's favor.
After Dante Wright and Omari Green both scored their third rushing touchdowns of the night, it was time for Navarre's defense to seal the deal.
Thanks to readjustments on the defensive end for Navarre, the defensive was able to mirror Cade Taylor's interception from the end of the first half with a game ending interception from by Brycen Brewer that allowed the offense to run out the clock and seal the 56-35 victory.
Navarre will hit the road on Friday for their first away-game of the season against Booker T. Washington High School of Pensacola, Florida with a kickoff time of 7:00 pm.