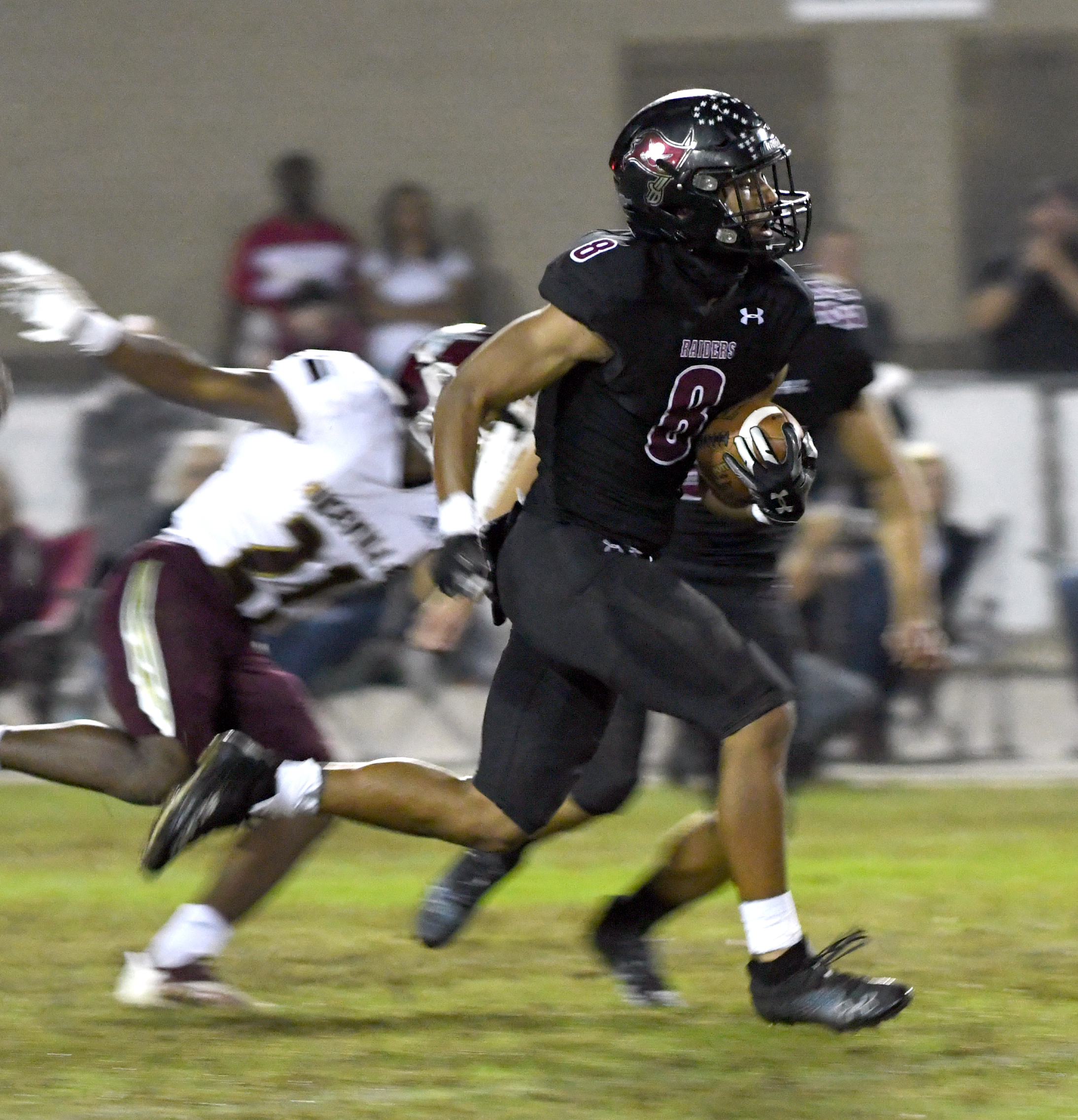 Jadon Reese works up field on his 64-yard kickoff return. The senior wideout figured heavily in both Raider touchdowns, scoring once on a 35-yard reception. (Photo by Stuart Camp)
The Niceville Eagles bullied the Navarre Raiders with a running attack worthy of it's 9-1 record and 4S-2 district title.
Niceville enriched their stock in the post-season draw, which resulted in a second seed and first round matchup with Crestview. Navarre is the number five seed, and they're paired with the Creekside Knights (8-2) from 4S district 3. They will clash Friday in Russell Stadium with a 7:30 p.m. kickoff.
Last Friday, the visiting Eagles ran in five touchdowns with only a smattering of pass-plays to prevent Navarre from cramming all 11 defenders up close to stop the running attack.
"We were able to run the ball with some success," said Niceville head coach Grant Thompson. "Then we got a lead, so we're going to run it more to run the clock."
By the beginning of the fourth quarter, Eagle running back Deangelo Shorts had more than 160 yards on 19 carries and three touchdowns. His biggest run was a 45-yard scoring scamper, which came in the third quarter and proved to be the game-winning touchdown.
"I noticed a wide-open hole right up the middle. I just took off running, and it was just right there," he said.
Former Navarre student Christian Caballero accounted for the other two Niceville scores – both from extremely close range. Eagle quarterback Harrison Orr completed 13-of-16 passes for approximately 150 yards.
It was the Eagles lengthy, clock- and ground-chewing drives which limited the chances Navarre had the ball in their hands. Niceville ran 35 plays in their first four drives, scoring twice, before Navarre caught a break with Jadon Reese's 64-yard kickoff. Six plays later, Eddie Love Jr. took the snap and followed the left guard and lead-blocker into the end zone, scoring with 47 seconds left before halftime.
Raider defensive back Connor Black recorded at least five solo tackles in the first half.
"I was attacking more than usual. It's definitely hard facing those (running) teams, but we just gotta put our heads down and grind," Black said. "Tonight, we didn't execute."
Both teams protected the ball extremely well. The only turnover was when the Raiders were forced to throw more in the second half, and Eagles safety Brendan Giddings picked off a pass. Initial stats reflect a season-low output both running and passing.
It wasn't until late in the third quarter before Reese made his first reception. His grab came in the seven-play scoring drive. Raiders' quarterback Hunter Pfiester hit Reese on the fly for a 35-yard TD with 42 seconds left in the period. But that only cut Niceville's lead to 28-14 with a full quarter remaining.
"Hunter made a great adjustment, because we had called it over to Terence. And he went back the other way and hit Jadon for a big play," Walls said. "It wasn't like we were dominated from start to finish. We had our opportunities. We had chances, and we came up short."
With the loss, Navarre was unsure of their first-round opponent or where they'll play.
"We're home, unless something crazy happens," Walls said.
Navarre is now 8-2 for the regular season. Of the schools vying for a berth in the eight-team, 4S region 1 playoffs, the Raiders have played four schools (Niceville, Gulf Breeze, Pace, Mosley) and come out with a 3-1 head-to-head record.
"I don't think it's going to be hard to get motivated. We've just got to execute on a very high level," Pfiester said.
Creekside will travel from St. Johns – a suburb south of Jacksonville – to face the Raiders. There are no shared opponents this year, but statistics show a high-scoring offense and forgiving defense. In their 10-game regular season, they outscored opponents 407-307. The Knights recorded a balanced yardage accumulation – 1,681 passing, 1,575 rushing – but they're more apt to run the ball in for a touchdown (24) versus the passing attack (18). Creekside's last game was a 47-22 victory over Ponte Vedra (5-5).