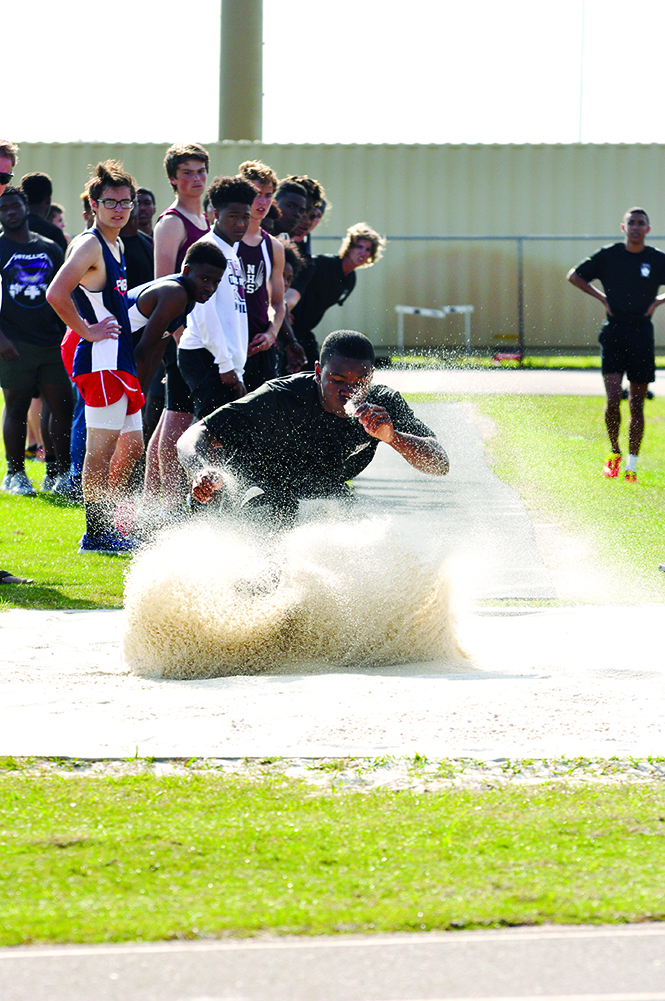 The Navarre High School boys and girls track teams took home top spots at last Tuesday's quad-meet at Navarre High School where the Raiders went up against Fort Walton Beach High School, Niceville High School and Pensacola High School.
The girls ran away with second place overall at the competition, only three points behind top finisher Pensacola High School.
The boys took the overall crown in their division, scoring 72 points overall at the track meet, nearly double the second place team's points.
Boys
The Raider boys polished off their first place crown at the meet thanks to several first place finishes, including a first place finish by freshman Ethan Fulk in the 200-meter wheelchair division.
Navarre also took home first in the 200-meter dash, giving them 5 points towards their overall score.
In the pole vault competition, Charles Orth powered his way to the top of the division, handing his team 4 points, followed by a solid effort from the boys' 4 x 400 meter relay, which put an additional 5 on the board for the Raiders.
Senior Alexander Lubbers polished off a 2:10.8 sprint during the 800-meter run, giving the Raiders an additional 5 points towards their overall score.
The boys also took home first overall in the 4×100 meter relay with a time of 50.3.
Girls
On paper, the girls seemed to have the win in the bag during the NHS quad-meet, but they missed the top spot by a mere three points behind visitor Pensacola High School.
The Tigers scrambled up 49 points overall to give them the top spot, despite the numerous first place victories the Raiders put on the board overall in each division.
One of those top spots came from Raider freshman Abigail Pantlitz who finished off the 100-meter dash with a 12.4 overall time. The varsity girls also took home a time of 50.3 in the 4×100 meter relay, giving them 5 points in that division alone.
The Raider girls suffered in the longer runs, placing fourth in the 400-meter dash and fourth int he 300-meter hurdles. The small setbacks, pushed the Raiders to their second place spot overall.
Results
Varsity Girls Team Scores (17 Events Scored)
1. Pensacola High School: 49 points
2. Navarre High School: 46 points
3. Niceville High School: 31 points
4. Fort Walton Beach High School: 26 points
Varsity Boys Team Scores (19 Events Scored)
1. Navarre High School: 72 points
2. Fort Walton Beach High School: 39 points
3. Niceville High School: 29 points
4. Pensacola High School: 13 points
5. Navarre High School Adaptive: 10 points
Varsity Girls 4×800 Meter Relay
1. Pensacola High School: 11:33.9 (5 points)
2. Navarre High School: 11:58.5 (3 points)
3. Fort Walton Beach High School: 12:14.8 (1 point)
Varsity Boys 4×800 Meter Relay
1. Navarre High School: 9:06.4 (5 points)
2. Fort Walton Beach High School: 9:49.5 (3 points)
3. Pensacola High School: 9:56.1 (1 point)
4. Niceville High School: 9:57.4
Varsity Girls 100
Meter Hurdles
1. Daria Straughn, Pensacola High School, 17.5 (5 points)
2. Hannah Hunter, Fort Walton Beach High School, 18.3 (3 points)
3. Jasmine Hellyer, Navarre High School, 18.4 (1 point)
4. Carolyn Alaniz, Fort Walton Beach High School, 18.9
5. Candelaria Rios, Fort Walton Beach High School, 20.3
Varsity Boys 110
Meter Hurdles
1. Samuel Bassham, Navarre High School, 15.4 (5 points)
2. Oliver Longley, Pensacola High School, 16.6 (3 points)
3. Blake Hoot, Navarre High School, 19.0 (1 point)
4. Evan Gourley, Navarre High School, 19.1
5. Justice Woods, Niceville High School, 19.1
Varsity Girls 100
Meter Dash
1. Abigail Pantlitz, Navarre High School, 12.4 (5 points)
2. Kayla Dailey, Pensacola High School, 12.8 (3 points)
3. Mikayla Mayfield, Navarre High School, 13.5 (1 point)
4. Valerie Samuel, Pensacola High School, 13.6
5. Dayzia Booker, Pensacola High School, 13.8
Varsity Boys 100
Meter Dash
1. Royce Thomas, Navarre High School, 11.4 (5 points)
2. Lee Jones, Navarre High School, 11.5 (3 points)
3. Kenneth Hamilton, Pensacola High School 12.0 (1 point)
4. Kojo Dahn, Pensacola High School, 12.1
5. Jeffery Hill, Fort Walton Beach High School, 12.1
Varsity Girls 1600 Meter Run
1. Erin Wilcox, Niceville High School, 6:24.5 (5 points)
2. Ashley Wagner, Fort Walton Beach High School, 6:40.2 (3 points)
3. Jaia Morales, Pensacola High School, 6:55.3 (1 point)
4. Deisy Tristan, Fort Walton Beach High School, 7:43.6
Varsity Boys 1600 Meter Run
1. Austin Epstein, Navarre High School, 4:53.0 (5 points)
2. Dane Dickerson, Niceville High School, 4:58.8 (3 points)
3. Payton Watson, Niceville High School, 5:04.7 (1 point)
4. Josh Jessiman, Niceville High School, 5:25.9
5. Bryce Boynton, Navarre High School, 5:39.7
Varsity Girls 4×100 Meter Relay
1. Navarre High School: 50.3 (5 points)
2. Pensacola High School: 52.8 (3 points)
3. Fort Walton Beach High School: 57.1(1 point)
Varsity Boys 4×100 Meter Relay
1. Navarre High School: 43.2 (5 points)
2. Fort Walton Beach High School: 46.3 (3 points)
3. Pensacola High School: 47.3 (1 point)
4. Fort Walton Beach High School: 48.9
5. Fort Walton Beach High School: 49.8
Varsity Girls 400
Meter Dash
1. Brianna Hamilton, Pensacola High School, 1:03.6 (5 points)
2. Tishauna Walker, Pensacola High School, 1:06.0 (3 points)
3. Delaney Cookman, Niceville High School, 1:07.6 (1 point)
4. Alexia Chiapetta, Navarre High School, 1:08.3
5. Jada Savoy, Navarre High School, 1:11.7
Varsity Boys 400
Meter Dash
1. Kydon Stewart, Niceville High School, 53.9 (5 points)
2. Dante Wright, Navarre High School, 54.2 (3 points)
3. Xavier Allen, Navarre High School, 54.8 (1 point)
4. Christian Brothers, Navarre High School, 55.6
5. Kojo Dahn, Pensacola High School, 55.7
Varsity Girls 300
Meter Hurdles
1. Daria Straughn, Pensacola High School, 51.0 (5 points)
2. Carolyn Alaniz, Fort Walton Beach High School, 55.0 (3 points)
3. Aubrey Hinely, Niceville High School, 56.4 (1 point)
4. Olivia Sczesny, Navarre High School, 58.0
5. Tanaya Cook, Pensacola High School, 58.6
Varsity Boys 300
Meter Hurdles
1. Christian May, Niceville High School, 43.5 (5 points)
2. Samuel Bassham, Navarre High School, 44.1 (3 points)
3. Hunter Richardson, Navarre High School, 45.8 (1 point)
4. Oliver Longley, Pensacola High School, 45.8
5. Justice Woods, Niceville High School, 46.2
Varsity Girls 800
Meter Run
1. Mackenzie Shinnick, Niceville High School, 2:36.2 (5 points)
2. Lauren Adams, Fort Walton Beach High School, 2:46.4 (3 points)
3. Diamond Lopez, Fort Walton Beach High School, 2:50.9 (1 point)
4. Erin Wilcox, Niceville High School, 2:53.6
5. Jaia Morales, Pensacola High School, 2:55.2
Varsity Boys 800
Meter Run
1. Alexander Lubbers, Navarre High School, 2:10.8 (5 points)
2. Tre Moseley, Niceville High School, 2:12.0 (3 points)
3. Joseph Palpallatoc, Navarre High School, 2:14.9 (1 point)
4. Christian Brothers, Navarre High School, 2:17.9
5. J.P. Pharms, Niceville High School, 2:21.1
Varsity Girls 200
Meter Dash
1. Abigail Pantlitz, Navarre High School, 26.1 (5 points)
2. Kayla Dailey, Pensacola High School, 26.1 (3 points)
3. (Name Unknown), Navarre High School, 27.6 (1 point)
4. Brianna Hamilton, Pensacola High School, 28.4
5. Tishauna Walker, Pensacola High School, 28.4
Varsity Adaptive Boys 200 Meter Wheel Chair
1. Ethan Fulk, Navarre High School, 1:33.4 (5 points)
Varsity Boys 200
Meter Dash
1. (Name Unknown), Navarre High School, 23.4 (5 points)
2. Royce Thomas, Navarre High School, 24.1 (3 points)
3. Corey Reed, Fort Walton Beach High School, 24.1 (1 point)
4. Jamal Jones, Pensacola High School, 25.1
5. Saturn Wagner, Navarre High School, 25.1
Varsity Boys 3200 Meter Run
1. Jeremiah Dotter, Niceville High School, 10:20.6 (5 points)
2. Sam Scholl, Niceville High School, 11:51.7 (3 points)
3. Logan Anderson, Niceville High School, 12:16.2 (1 point)
4. Bryce Boynton, Navarre High School, 12:37.8
5. Jackson Hamilton, Niceville High School, 12:46.6
Varsity Girls 3200 Meter Run
1. Erin Converse, Niceville High School, 12:58.0 (5 points)
2. Rebecca Fields, Navarre High School, 16:14.4 (3 points)
Varsity Girls 4×400 Meter
Relay
1. Niceville High School: 4:37.6 (5 points)
2. Fort Walton Beach High School: 4:44.8 (3 points)
3. Navarre High School: 4:47.5 (1 point)
4. Pensacola High School: 4:57.1
Varsity Boys 4×400 Meter Relay
1. Navarre High School: 3:40.2 (5 points)
2. Pensacola High School: 3:49.1 (3 points)
3. Niceville High School: 3:49.9 (1 point)
4. Fort Walton Beach High School: 3:54.6
Varsity Adaptive Boys Shot Put
1. Ethan Fulk, Navarre High School (Adaptive), 9-09.00 (5 points)
Varsity Girls Triple Jump
1. Jasmine Hellyer, Navarre High School, 31-07.00 (5 points)
2. Alexis Moses, Pensacola High School, 31-03.50 (3 points)s
3. Valerie Samuel, Pensacola High School, 29-05.00 (1 point)
4. Alyssa Kocon, Navarre High School, 29-02.50
5. Avery Hanson, Niceville High School, 28-06.00
Varsity Boys Triple Jump
1. Chris Tate, Fort Walton Beach High School, 40-04.00 (5 points)
2. KeShaun Gantt, Fort Walton Beach High School, 40-02.00 (3 points)
3. Darnell Deas, Navarre High School, 39-06.00 (1 point)
4. Josiah Hernandez, Niceville High School, 39-04.00
5. Samson Scafidi, Fort Walton Beach High School, 37-05.00
Varsity Boys High Jump
1. Aron Scott, Fort Walton Beach High School, 6-00.00 (5 points)
2. Trevan Floyd, Pensacola High School, 5-10.00 (2 points)
2. Cardriqus Buggage, Pensacola High School, 5-10.00 (2 points)
4. Lee Jones, Navarre High School, 5-08.00
4. Garren Harper, Navarre High School, 5-08.00
4. Shaun Parcher, Navarre High School, 5-08.00
4. Christian Lucas, Fort Walton Beach High School, 5-08.00
4. Chris Tate, Fort Walton Beach High School, 5-08.00
Varsity Girls High Jump
1. Lindley Hill, Niceville High School, 4-08.00 (5 points)
2. Sarah Markwardt, Niceville High School, 4-06.00 (3 points)
3. Khiara Newton, Navarre High School, 4-06.00 (1 point)
3. Arbryonna Byrd, Fort Walton Beach High School, 4-06.00
5. Lauren Frederic, Niceville High School, 4-02.00
Varsity Girls Pole Vault
1. Hannah Hunter, Fort Walton Beach High School, 8-06.00 (5 points)
2. Diamond Lopez, Fort Walton Beach High School, 8-00.00 (2 points)
2. Emory Burda, Navarre High School, 8-00.00 (2 points)
4. Natalia Roberts, Navarre High School, 6-06.00
Varsity Boys Pole Vault
1. Charles Orth, Navarre High School, 12-06.00 (4 points)
1. Jason Blair, Fort Walton Beach High School, 12-06.00 (4 points)
3. Tucker Reynolds, Navarre High School, 11-00.00 (1 point)
3. Michael Rivera, Fort Walton Beach High School, 11-00.00
5. Shaun Parcher, Navarre High School, 10-06.00
Varsity Boys Shot Put
1. Jamar Earl, Fort Walton Beach High School, 40-01.00 (5 points)
2. Lamarcus Smith, Navarre High School, 39-00.50 (3 points)
3. Max Warnecke, Niceville High School, 38-03.50 (1 point)
4. Donald Brechtel, Niceville High School, 37-11.00
5. Michael Toledo, Niceville High School, 36-11.00
Varsity Girls Shot Put
1. Amaya Craig, Navarre High School, 31-11.00 (5 points)
2. Asanti Donaldson, Pensacola High School (3 points)
3. Jasmine Brinson, Pensacola High School, 30-05.50 (1 point)
4. Z'kiyah Jones, Navarre High School, 29-05.00
5. Zeigler Talese, Navarre High School, 27-03.00
Varsity Boys Long Jump
1. Chris Tate, Fort Walton Beach High School, 19-08.00 (5 points)
2. KeShaun Gantt, Fort Walton Beach High School, 19-05.00
2. Earnest Stallworth, Pensacola High School, 19-05.00
2. Jaylen Shropshire, Navarre High School, 18-04.00 (3 points)
3. Royce Thomas, Navarre High School, 18-00.00
4. Darnell Deas, Navarre High School, 17-09.00
5. Ian Miller, Fort Walton Beach High School, 17-05.00
Varsity Girls Long Jump
1. Tishauna Walker, Pensacola High School, 16-04.00 (5 points)
2. Abigail Pantlitz, Navarre High School, 15-09.00 (3 points)
3. Diamond Lopez, Fort Walton Beach High School, 15-01.50 (1 point)
4. Carolyn Alaniz, Fort Walton Beach High School, 14-11.50
5. Hailey Neely, Navarre High School, 14-11.50
Varsity Girls Discus Throw
1. Amaya Craig, Navarre High School, 100-11 (5 points)
2. Asanti Donaldson, Pensacola High School, 83-09 (3 points)
3. Sydney Green, Niceville High School, 79-00 (1 point)
4. Raegan Taylor, Niceville High School, 77-11
5. Zeigler Talese, Navarre High School, 67-11
Varsity Boys
Discus Throw
1. Drew Bachmann, Fort Walton Beach High School, 131-01 (5 points)
2. Keon Darling, Navarre High School, 126-04 (3 points)
3. Max Warnecke, Niceville High School, 116-11 (1 point)
4. Jamar Earl, Fort Walton Beach High School, 115-08
5. Joseph Bruce, Niceville High School, 108-03