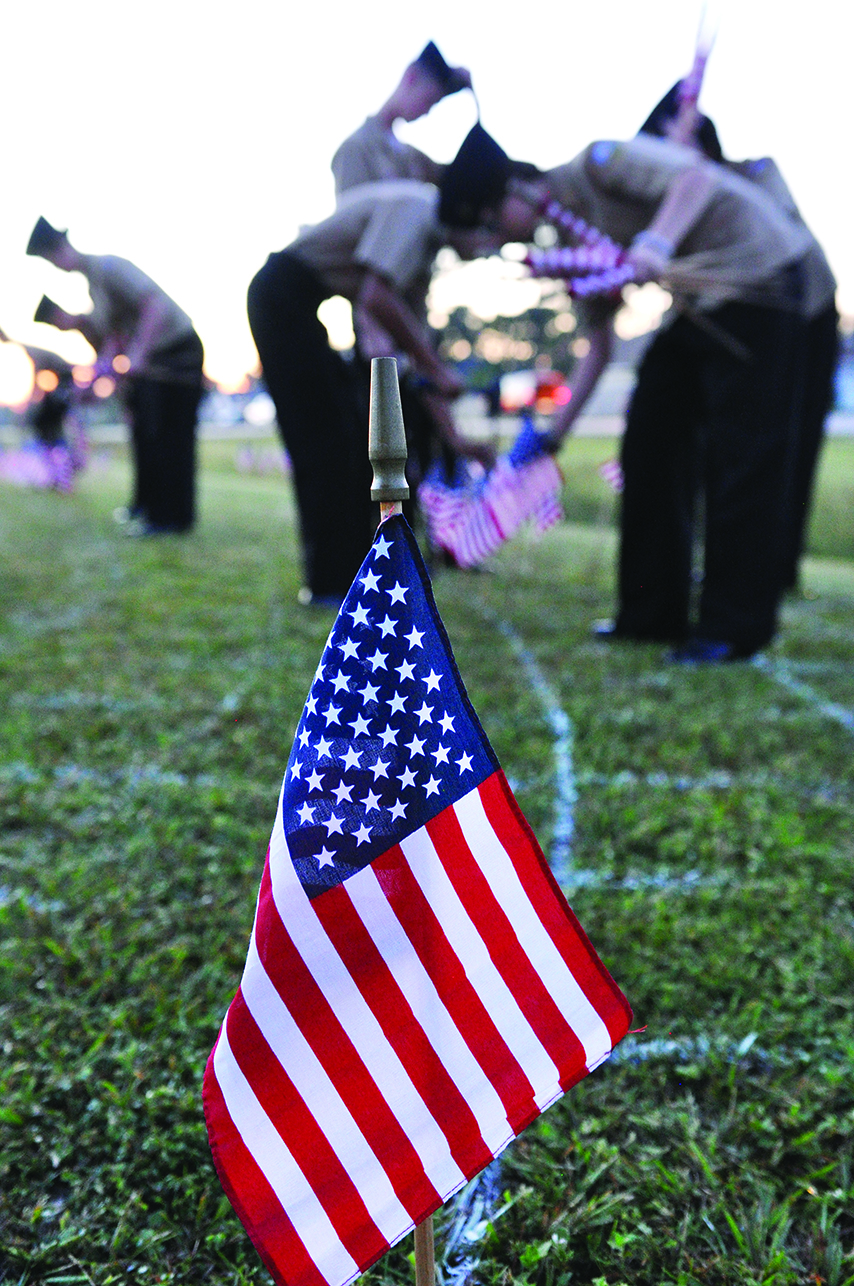 Tap. Tap. Tap.
That's the only sound that could be heard on the front lawn of Navarre High School on Sept. 9.
Those taps were from hammers that NHS JROTC students were using to tap hundreds of flags into the ground around the school's flag pole.
2,996 flags.
One for each life lost during the deadly Sept. 11 terrorist attacks 15 years ago.
Each year, the cadets host the ceremony to pay tribute to the victims of the national tragedy and their families.
During the annual ceremony, cadets take turns calling out the names of the 2,996 people that died during the attacks.
The cadets started the ceremony at 6 a.m. sharp and didn't get finished calling out the names of the victims until 10:30 a.m. when hundreds of students, first responders and citizens gathered to watch the cadets' ceremony.
During the ceremony, Holley-Navarre Fire Department, a members of Navarre VFW Post 382 and VFW Auxiliary Post 11367 of Mary Esther placed a wreath at the foot of the flag pole in front of the school with the nearly 3,000 flags surrounding it as part of the annual ceremony.
"At dawn our cadets placed 2,977 flags around the flag pole. each flag represents a life lost on that tragic day," said NHS JROTC cadet Ariana Clemente-Hunter at the start of the ceremony.
Clemente-Hunter told students gathered in front of the school that most likely none of them could remember seeing the attacks unfold that day since it occurred 15 years ago, when many students weren't even born or were too young to remember.
"As a member of the class of 2017, we must recognize that you're a part of a generation of students that was too young to remember the events of Sept. 11. Instead, we were taught of the attacks as a part of our nation's history," Clemente-Hunter said. "We must also recognize that this doesn't lessen the impact that this tragedy has had on our lives."
Clemente-Hunter, like the other cadets, host the event every year to make sure the students, teachers and citizens don't forget the terrible tragedy.
"We must not let the memory of those men and women who died fade," Clemente-Hunter said. "This memorial is our way of promising that we will always remember and never forget."