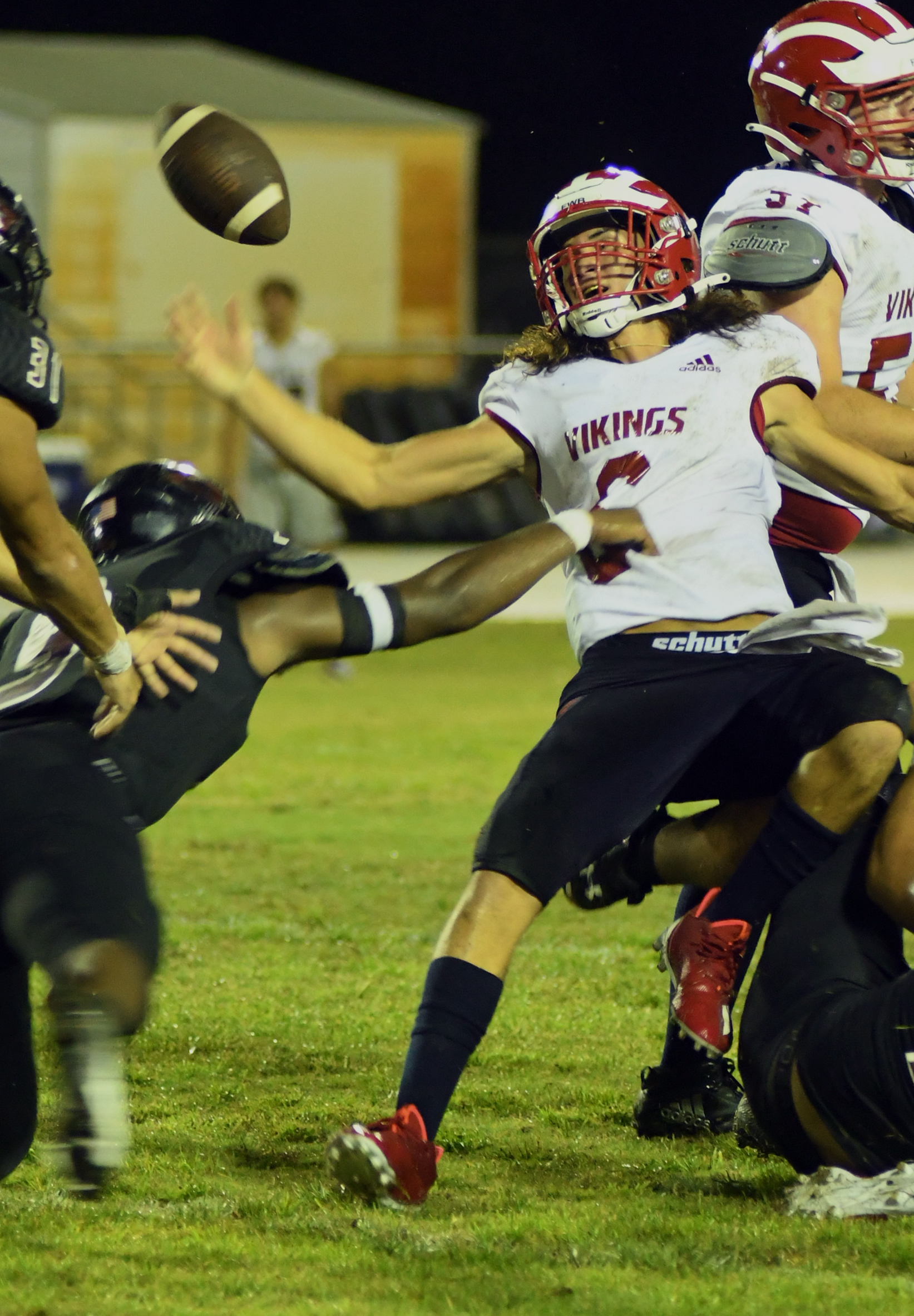 Viking quarterback T.J. Seiuli loses the football under crushing pressure by the Navarre defense. (Photo by Stuart Camp)
Terence Marshall scored a pair of touchdowns as the Navarre Raiders opened up their 2021 season Friday with a win over Fort Walton Beach in Russell Stadium.
Both teams stuttered offensively in the first half, and the defenses contributed to that inefficiency. In fact, the defensive sides were directly responsible for both first-half touchdowns.
FWB Viking Parker Hill picked off Raider quarterback Hunter Pfiester, then he outran everyone down the right sideline for a 92-yard, second quarter score. Navarre 's pressure in the Viking backfield resulted in a fumble recovery at the FWB 12-yard line, which Raider quarterback Kyle Chambers converted on their next play from scrimmage. Taylor Gardner converted the point-after for a 7-6 advantage just before halftime.
Marshall scored his first touchdown on the second-half kickoff. He shagged the ball inside the five-yard line and stopped running in the other end zone.
"We needed something like that. A big play, no doubt.," Raider head coach Jay Walls said. "The defense played outstanding. They got a shut-out."
Navarre's defense ratcheted up the pressure, which limited the Vikes to modest gains, and forced multiple fumbles.
"I really think we hit 'em in the mouth on every play with 100 percent effort on every play," said linebacker Devin Wright. "We were causing fumbles, causing turnovers, and I think that helped us with motivation to get through the game."
On a threatening drive in the fourth quarter, Viking signal-caller T.J. Seiuli broke through for a long run, but Deuce Nedd poked the ball free and Navarre took possession on their own 12-yard line.
"We were in it for a while, but then we got sloppy with the football and made mistakes," Vikes head coach Chip Petree said. "At times, we played some really good defense. Credit goes to Navarre; they made a lot of our errors and sloppiness with their aggression."
The Raiders' aerial game accounted for the remaining touchdowns – Chase Richardson pulling in a Pfiester scoring pass and then Marshall capping the score with his second TD on a fade to the left corner.
"I feel like our O-line held up really well. They've taken a really big step up," said Chambers. "In the second half, our offense stepped up. The tempo from Terence's kick return just gave us fire for whole second half."
Next week, Navarre hosts the Easton Eagles, who are traveling in from New Orleans. Kickoff's at 7:30 p.m. The Vikings will face the Crestview Bulldogs on the road, and their game starts at 7 p.m.