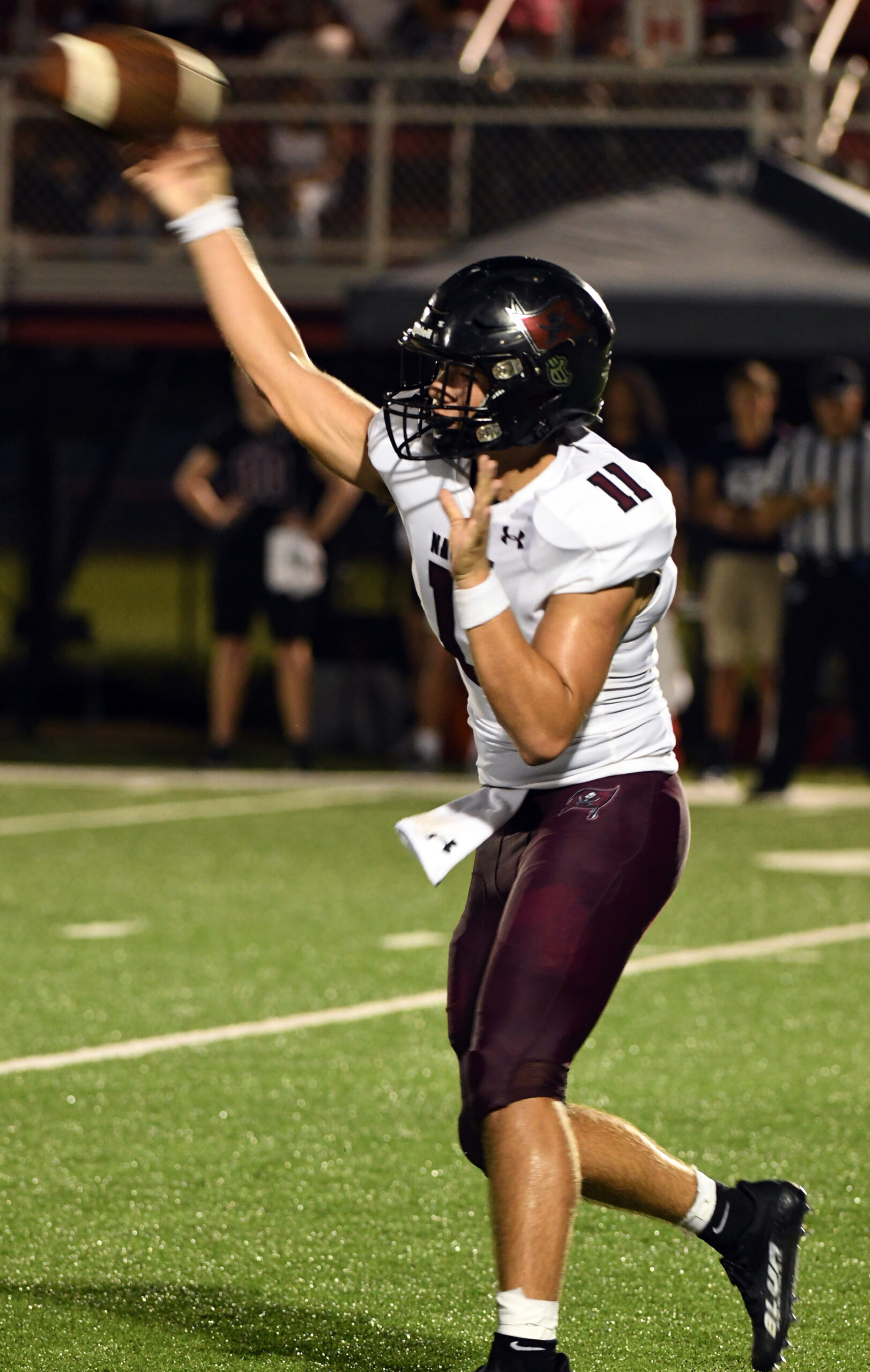 Hunter Pfiester threw for three touchdowns against the Fort Walton Beach Vikings in the Raiders 47-7 opening night victory. (Photo by Stuart Camp)
Navarre High's football franchise opened its 2022 campaign with a 47-7 victory over the Fort Walton Beach Vikings Friday night.
This was the second-highest winning tally in the area this week, eclipsed only by Booker T. Washington's 51-points turnout on the Pensacola Tigers.
All phases of the Raider team helped lock up the victory. Special teams put six points on the board off Taylor Gardner's foot, and they didn't allow any major momentum-swinging plays on kickoffs/punts. This included Dwayne Clark's blocked punt which put Navarre just seven yards from paydirt. Offensively, the running and passing clicked. Defensively, they gave up one play – a 24-yard keeper by Viking quarterback Garrison Kurtz in the fourth quarter – to stain the clean sheet.
"We wanted to load the box with eight people and run our four-man fronts," said Navarre linebacker Zavier Hamilton. "That was our whole deal: chop 'em down low, because that guy (Bam Davis, #0) is a big back."
That scheme rocked the Vikings.
"They brought a lot of blitzes and played great coverage (downfield). It was just great overall defense," Kurtz said.
Post-game, Raider head coach Jay Walls rated this opening night win a 10.
"To have a shutout into the fourth quarter was outstanding," he said. "Our D-line did a great job against the run. We're going to enjoy this one. These guys deserve it."
Defensive stops, takeaways by interception, and fumble recoveries, compounded by special teams' plays shortened the field for the offense. And the Raiders offense struck by air and ground. Quarterback Hunter Pfiester connected with Jadon Reese three times for touchdowns of 31, 15 and 21 yards – including the eventual game-winning TD with less than a minute remaining on the clock in the first quarter — all in the first half.
They walked into halftime with a 31-0 cushion.
On the night, touchdowns were scored by running back Eddie Love Jr. (20 yards), second-unit quarterback James Clark (73 yards), and Hamilton (2 yards). This offensive output is the Navarre's highest since they hung 50 on Choctaw Oct. 9, 2020.
"We came out flat last week, and you saw the results. This week, we were pumped. Ready to play," said Pfiester, the Raider's junior signal caller. "I just tried to slow everything down, play by play, and give it my all. Everything was clicking."
Next week's opponent, Pine Forest (12-2 and state 6A runner up in 2021), ran up a 34-0 ledger against Tate in their 2022 opener. The Eagles will visit Russell Stadium, and kickoff is set for 7:30 p.m.
Navarre has a 3-4 record against Pine Forest since 2004. Their last meeting took place Sept. 20, 2019, and the Eagles walked away with a 24-6 decision. Navarre's last win against Pine Forest was a 26-25 squeaker in 2018.
Navarre's defensive scheme clogged the Vikings' running lanes, including this Kiohne Moso tackle of Viking ballcarrier Jereme Earl for a loss. (Photo by Stuart Camp)