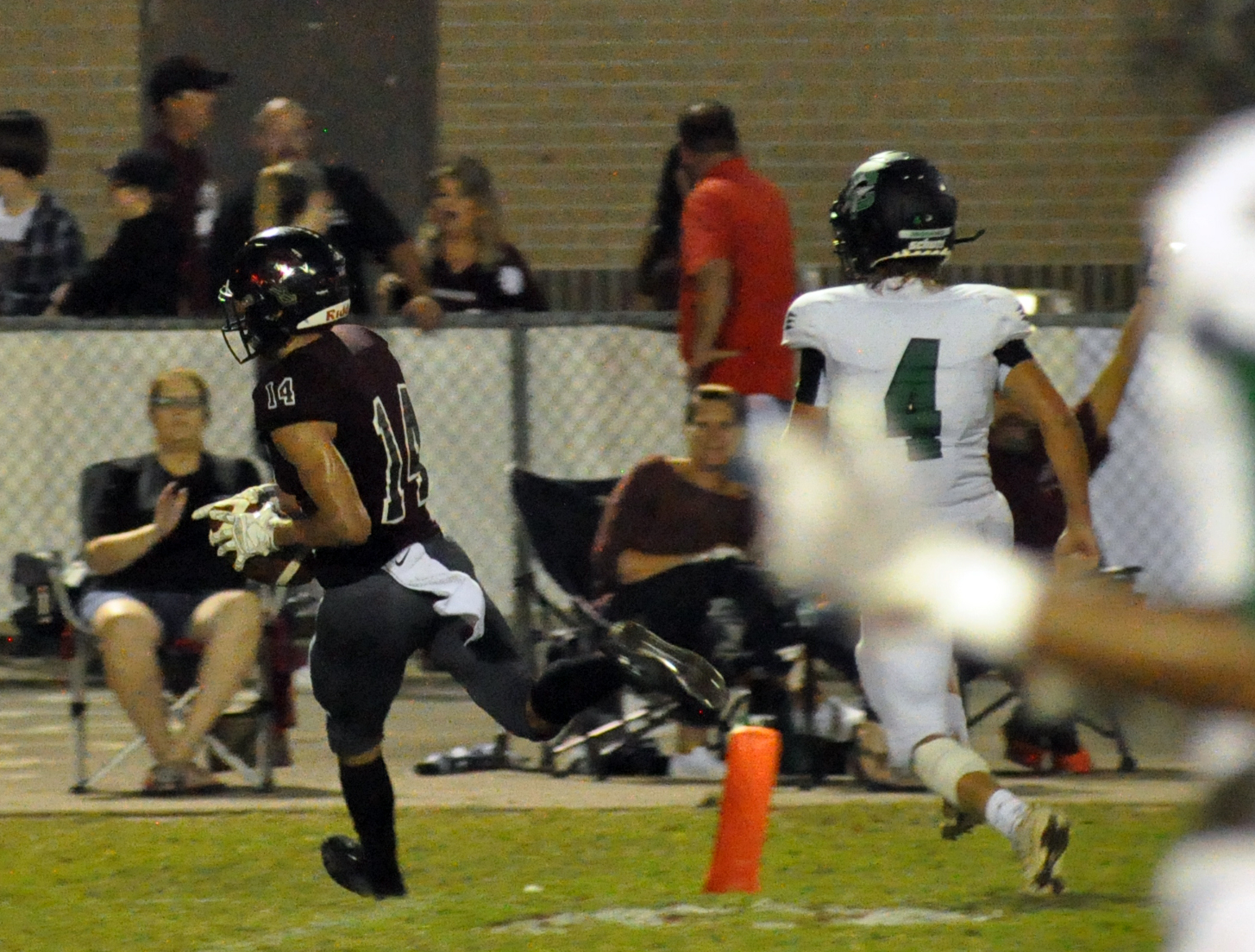 Trent Hall ambles in for his first, of two, touchdowns Thursday against the Choctaw Indians. (Photo by Stuart Camp)
The passing attack caught fire Thursday to complement the vaunted running game, and the Raiders swamped the Choctaw Indians 50-21.
The game was played a day early to avoid predicted rain and strong winds from Hurricane Delta.
Four passing touchdowns – three by Zach Marquis and one by Jason Deal – were capstones to an aerial game that finally got momentum in Navarre's third win this season.
"I think we got better this week," head coach Jay Walls said. "We always work on run and pass and be really effective with that. We threw the ball well."
The coach credited the offensive line with giving both quarterbacks a comfortable pocket to throw from.
It took three plays for Navarre to pin six points on the score board. They covered 75 yards lighting fast. On second and long, Jaden Rivera busted the defense for 50 yards. Then Deal connected with Jebari Mitchell for the touchdown. The point-after missed.
Choctaw (0-4) took the ensuing kickoff and marched down for one of their own. They took the lead briefly when their PAT sailed through the uprights.
But then Navarre took over. Not even two minutes later, Marquis found Trent Hall on a 20-yard, go-route down the middle to cap a five-play, 75-yard drive. Marquis then ran in the two-point conversion behind the big right side of the offensive line for a 14-7 advantage.
"We're developing trust … with the quarterbacks." Trent Hall said, who ended up with two touchdowns on the night. "It took a little longer than we wanted to, but I think we've got it now."
Running back Jaden Rivera added to his ball-carrying numbers by hauling in a 14-yard scoring pass from Marquis to put the Raiders up 21-7 with 9:30 before halftime.
The oddest stat: the game-winning points came as a gift from Choctaw. Indian punter Zander Nobel couldn't field the snap deep in their own territory, and the ball bounced into the end zone. Rather than giving the Raiders a chance to fall on the ball for another touchdown, he booted it out of bounds for a two-point safety.
Navarre went on to pile on the points on offense, and the defense continued to sequester the Indians.
Nose guard Terry Pemberton figured on several tackles and literally a front-row seat on the defensive performance the Raiders put on.
"We have a very deep d-line (defensive line) so that helps us be very versatile in what we call," the senior defender said. "I felt like it was very easy because of the great teammates I have around me to do what we needed to do. I feel like we did a great job flying to the ball."
Choctaw – lead by back-up quarterback Dorian Smith – did move the ball against the Raiders, eventually scoring two touchdowns in the second half.
"The short stuff outside was where most of their success came from," Pemberton said. "Every once in a while, we'd have a busted tackle and they'd get a decent amount of yards. The team, as a unit, had great success against their running attack."
Next up is Niceville (4-0), who also played Thursday night as a precaution against inclement weather from Hurricane Delta. They hung 56 points against Choctaw in week #1, and they squashed Mosley 45-0 this week. The game is in Niceville, and kickoff is 7:30 p.m.