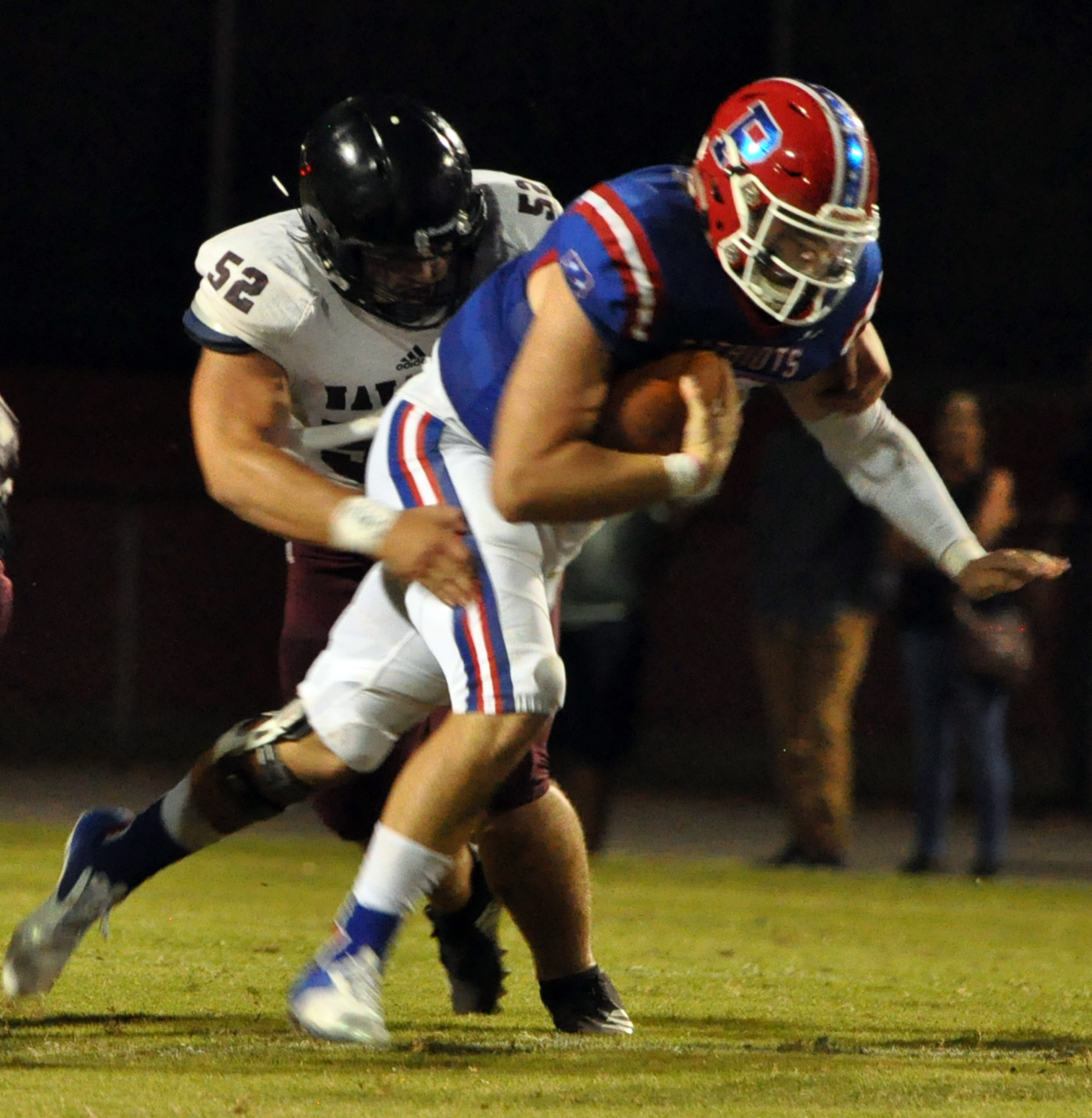 Photo by Stu Camp
Two interceptions and a powerful running game powered the Raiders over the Pace Patriots 17-7 Friday night.
The road win extends Navarre's opening night streak to seven years. And since 2010, the Raiders have owned the head-to-head matchup with the Patriots with a 10-1 record.
Friday night, the defense stalled Pace and their big senior quarterback Brandon Miller.
Special teams – the hidden x-factor in the game – consistently pinned the Patriots deep in their own territory. Twice, the opponent began a series inside the 10-yard line where the defense could use the short field to their advantage, forcing three turnovers in the game. The first was a fumble inside the Pace 30, which resulted in senior kicker Preston Penton splitting the uprights and a 3-0 first quarter advantage with eight minutes on the clock.
The offense just pounded Pace on running plays, but struggled when putting the ball in the air. Running back Jaden Rivera scampered 40-plus yards in the second quarter to avoid giving the Patriots good field position. A few plays later, he scored from seven yards out at the 6:04 mark, squirting around the right side to give Navarre a 9-0 lead. The point after kick was good.
Four minutes later, Miller connected with a receiver for a 44-yard retaliatory touchdown, and the teams went into halftime with Navarre leading 10-7.
The Raiders took the second-half kickoff and marched 68 yards to score. Rivera romped 10 yards, virtually untouched, through a giant hole the offensive line opened right up the middle.
Up 10 points, the defense snagged two interceptions in second half. The first one by Jaden Jones halted a well-constructed Pace drive and put the ball back in Raiders' hands at their own 40-yard line.
"We got a shut-out the second half," said head coach Jay Walls, describing defining moments in the game. "The turnovers were huge. They (Pace) needed a big play, and we got a pick."
Jones' second pick came with 4:48 left in the fourth quarter, preserving the win.
"Our defense killed it. Our offense is rocky, and we picked it up in the end," said starting senior quarterback Zach Marquis.
Halftime conversations focused on changes and fixes according to last year's second leading rusher.
"We just came out here and executed," said Rivera, who amassed more than 100 yards on the night. "The defense was just arm-tackling, and running backs beat those all the time."
Next up, Navarre will defend the Beach Bowl trophy against Gulf Breeze. Kickoff is 7:30 p.m. Friday on Dolphin turf.