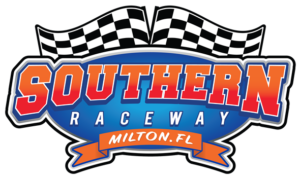 Mother Nature did not spare her rainy forecast over Labor Day weekend and ended up shortening Southern Raceway's two-day weekend schedule to just one wet Saturday night.
Due to two rain delays, the heat races were canceled and some divisions ran features only as the starting order was based on the respective heat race draw.
In the much anticipated Southern Outlaw Sprint Car feature it was Kyle Amerson leading all 25 laps for his first win of the season and in the process he moved up to second in the Lucas Oil ASCS points, just 64 points behind Michael Miller.
Gulfport's Shane Morgan fell to third in points after he suffered engine problems that relegated him to 13th place.
The big accident of the night came on the lap 14 restart when the cars of Clint Weiss, Tristan Lee, Tony Agin, and Brandon Blenden tangled in turn four.
Rounding out the top five were: Michael Miller, Timmy Thrash, Butch David and Blake Carter.
In the first feature of the evening, the Pure Stock cars had their hands full on a fresh and very slick track following the second rain delay of the evening.
Michael Emmons, who started the race from the pole checked out and led the entire race to take the win.
Emmons held off Trenton Odom for the win, but during postrace inspection Odom was disqualified.
Due to the disqualification the final running order behind Emmons were last year's Pure Stock Champion Bubba Fletcher in second followed by Chris Brown, Jessica Donaldson, and Lane Heaton rounding out the top five.
In Saturday's NeSmith Street Stock division Frank Wilson took home a trophy thanks to a caution flag on lap 16.
Bo Bailey saw his lead over Wilson disappear when Tim Fowler's car stopped in turn two.
When the race re-started, Wilson took advantage of the opportunity and passed Bailey for the lead.
Rounding out the top five were: Curtis Faircloth in third, Brandon Kilpatrick, and Larry Faulk.
Despite several on-track incidents, Kenneth Tarter led the entire way to take the win.
Joe Phillips had a rocket ship on the slick track and ran away from the competition in the Open Wheel Modified division.
Phillips dealt with lapped traffic for most of the race as he ran away from second place finisher Lucas Morris.
Rounding out the top five were: Doug Rogers in third, followed by Nick Poole and Travis Snellgrove.
A big night of racing action is planned for this Saturday on the three-eighths mile dirt for Fan Appreciation Night.
Heat Races
Pure Stock Heat 1
1. Michael Emmons
2. Bubba Fletcher
3. Trenton Odom
4. Carl Dodson
5. Kristin Rast
Pure Stock Heat 2
1. Nick Chesser
2. Jessica Donaldson
3. William Arnett
4. Christopher Brown
5. Tommy Lowery
Pure Stock Heat 3
1. Jason McDaniel
2. Troy Williams
3. David Perritt
4. Russell Macanelly
5. Wayne Plunkett
Pure Stock Heat 4
1. Tally Warrick
2. Lane Heaton
3. Adam Ellison
4. Jake Moore
5. Jason Dollar
Open Wheel
Modifieds Heat 1
1. Doug Rogers
2. Lucas Morris
3. Osman Jones
4. Thumper Grice
5. Eli Williams
Open Wheel
Modifieds Heat 2
1. Joe Phillips
2. Mike Lane
3. Nick Poole
4. Joel Wyatt
5. Travis Snellgrove