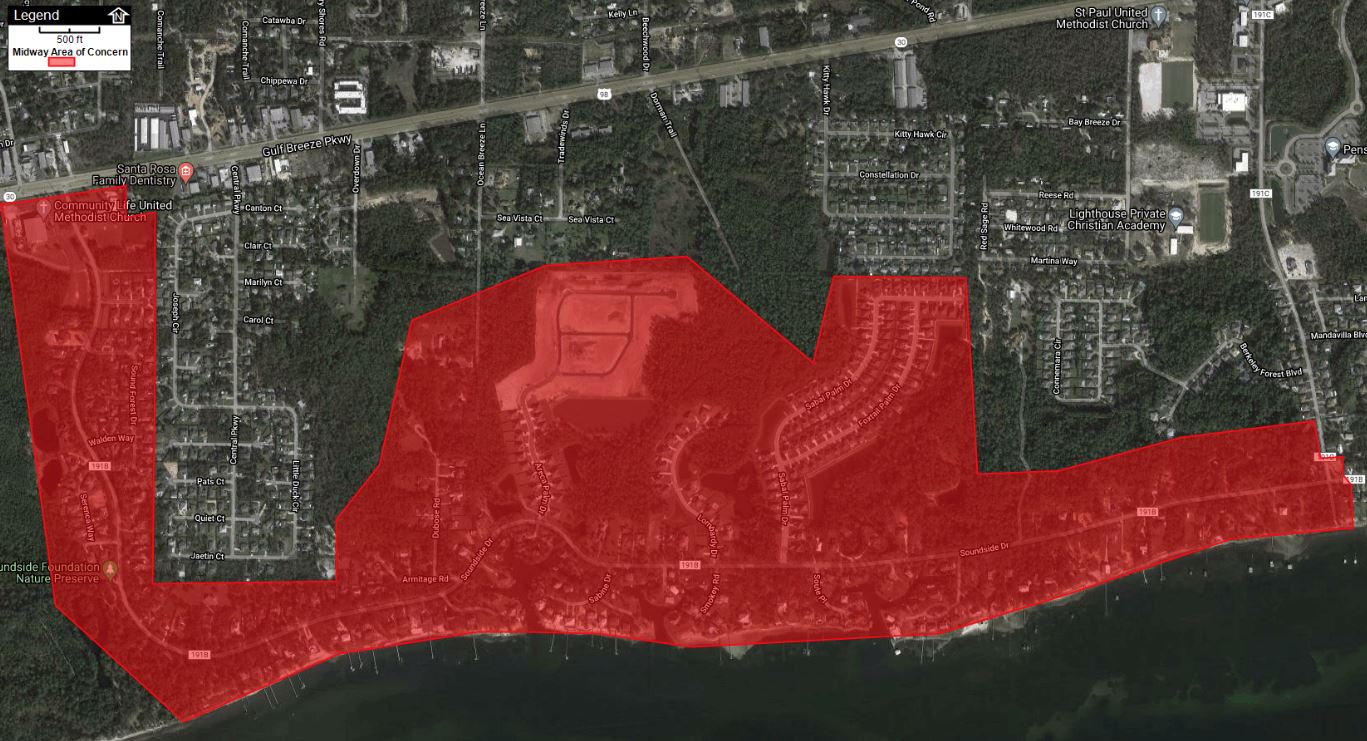 The boil notice was issued for all Midway residents between 4115 Soundside Drive and 5012 Soundside Drive, including Natures Cove and The Waters subdivisions and all adjacent streets. Submitted graphic.
It's been a nightmare scenario for certain Midway residents who remain under a boil water notice after a residential grinder pump had been incorrectly installed and service began September 21, causing raw sewage to taint the area's water supply for weeks – undetected.
The Florida Department of Environmental Protection could possibly rescind the related boil water notice tomorrow, following additional testing after extensive flushing of lines, using around 2 million gallons of water and chlorine.
After the incident took place, residents started experiencing clogging of appliances and fixtures, replacing or repairing them. Reports of problems continued. However, the issues were not central to one location.
One resident of Soundside Drive told South Santa Rosa News that initially officials said the cause of problems was believed to be nearby construction. Subsequently, water lines in the area were repeatedly flushed and chlorine was used.
Water samples taken prior to the discovery of the problem showed no signs of bacteriological contamination to the water supply, and a source tells SSR News that could be because chlorine was being utilized.
Reports of more problems escalated Monday, when a MWS employee suspected the "unthinkable" must have taken place.
That employee, on a hunch after exhausting all other leads, suspected a contractor might have erroneously connected a grinder pump into a water main instead of a sewer main. His suspicion was correct.
Subsequently, MWS employees dug up the water main in front of a home on Soundside Drive and, much to their disbelief, discovered cross connection had occurred. MWS staff immediately isolated the cross connection, notified The City of Gulf Breeze and issued a boil water notice for all residents in the affected area.
"Gulf Breeze Regional Water System is continuing to investigate how this accidental cross connection occurred by a homebuilder's contractor," said Gulf Breeze City Manager Samantha Abell. "The City was first notified late Monday by Midway Water System, and the city's crew monitored the repair."
According to Abell, Gulf Breeze Regional Water representatives attended Midway's October 18 shareholder meeting to answer questions with the limited information available based on the discovery only a few hours prior.
"Midway Water System has shared its water test results with Gulf Breeze and FDEP, which all show normal and safe readings. More test results are expected tomorrow," Abell said.