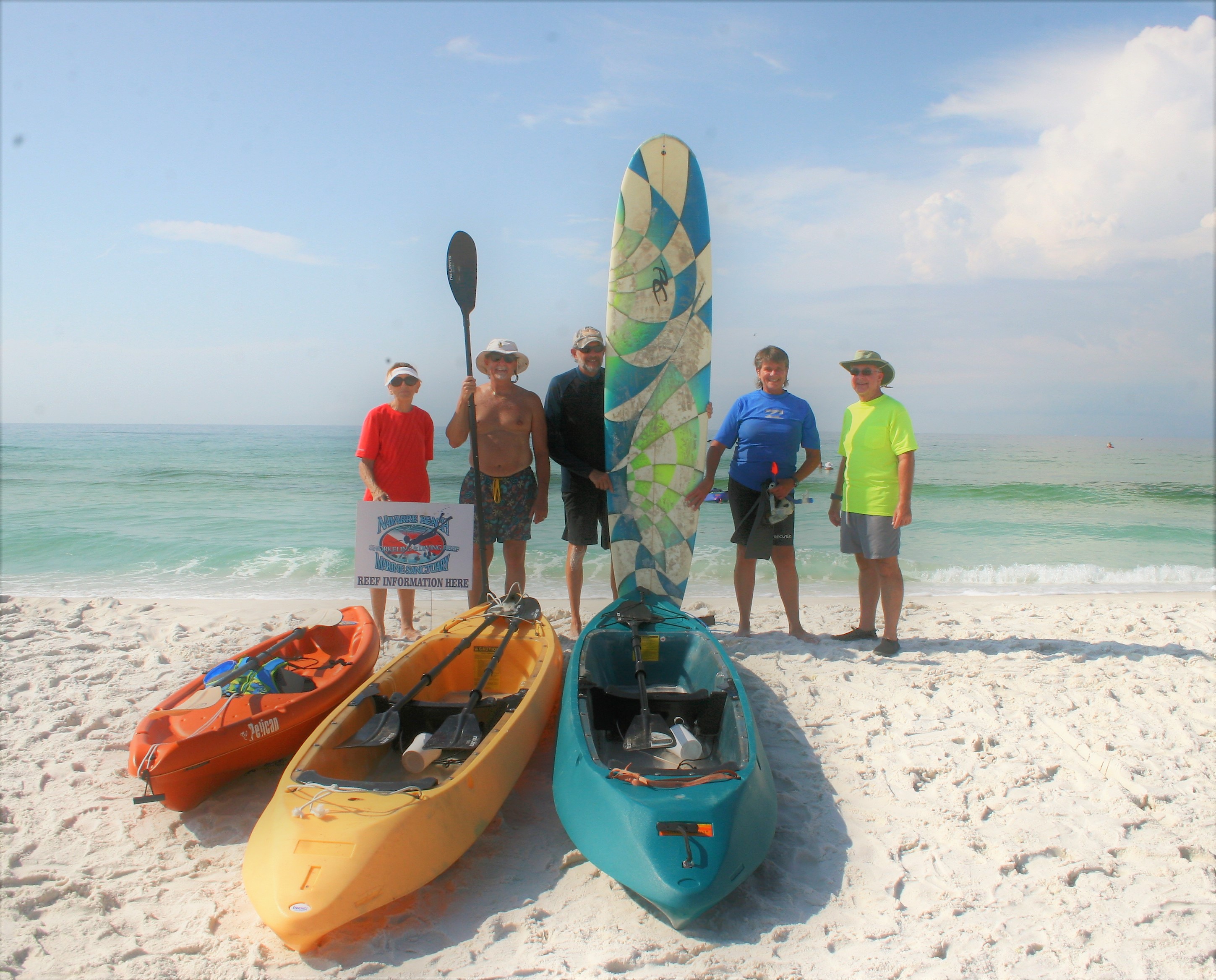 Volunteers Michelle Whikehart, Andy Epstein, Ralph Agnew, Brenda Stokes and Will Smith were on hand June 30 for clear-bottom kayak tours of the Gulf-side reef
Marine life is teeming at Navarre Beach Marine Sanctuary, a growing expanse of artificial reefs in the Gulf of Mexico and Santa Rosa Sound, attracting locals and visitors to the area.
"We have people come from out of state to snorkel the reefs because the ecosystem has developed such a variety of marine life," said Santa Rosa County Tourist Development Director Julie Morgan. "There are avid divers and dive clubs which travel to Navarre to explore the reefs."
Presently there are 78 artificial reefs in the Gulf of Mexico, about 300 feet offshore in 10-15 feet of water, where divers routinely observe sea turtles and a wide variety of marine life.
Morgan also pointed out that the sport of kayak fishing has taken off in the area since the reefs were first deployed in 2012 and that by October an additional 500 reef structures will be placed roughly one mile south of Navarre Beach Fishing Pier.
"Navarre is known for our kayak fishing. We're already a destination spot for kayak anglers around the southeast, and after the additional reefs are deployed south of the pier, we'll see even more kayak anglers coming to our area," said James Broxson, owner of Broxson Outdoors. "It's a game changer for kayak fishing in the Panhandle of Florida."
The growing success of the reefs is an accomplishment particularly savored by Navarre resident Bob Boston, an outdoorsman who volunteers for the Navarre Beach Marine Sanctuary.
"We were optimistic of the idea for reefs but pragmatic to the work it would take to accomplish the idea," said Boston, who said the growth has "quite simply has gone thru the roof."
According to Boston, volunteers jumped on the opportunity to pursue early restoration and other funding available as a result of the 2010 Deepwater Horizon Oil Spill.
Boston spearheaded part of the effort, pushing through what he describes as the "drudgery" of required paperwork, attributing the reef's development and expansion to a "huge" amount of volunteer work and "extraordinarily generous" partnerships.