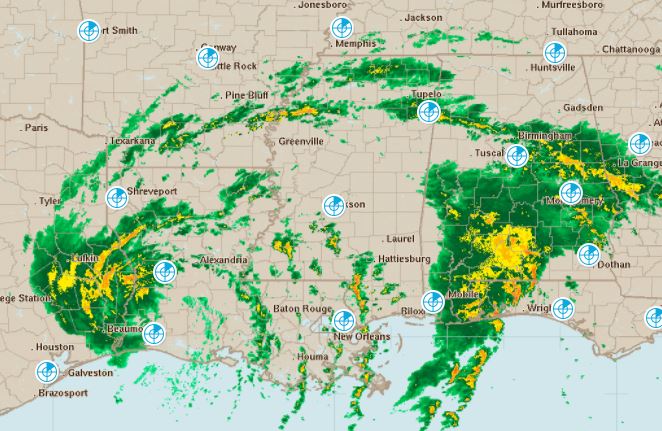 One of the worst flooding disasters in U.S. history is now impacting Santa Rosa County — with eight or more inches of rain possible in some areas. A Flash Flood Watch is in effect through this evening, and county officials have announced related road closures.
Currently there is a flash flood warning in effect until 11 a.m. for the Milton and Bagdad areas (see road closure info below).
"Santa Rosa County is experiencing heavy rain across the central portion of the county resulting in standing water on all roadways. Use caution when driving. Standing water creates a serious road hazard, even when only a portion of the roadway is flooded. Motorists should always avoid crossing flooded streets and should never attempt to cross flooded bridges. Remember, "Turn Around, Don't Drown," stated an 11 a.m. county news release.
Hurricane Harvey made its final landfall around 3:30 a.m. CDT this morning near Cameron, Louisiana after dropping record-breaking amounts of rainfall in Texas.
According to NOAA meteorologists, the more than 50 inches of rain which fell on parts of Texas will likely be the most rainfall from any tropical cyclone ever recorded in the continental U.S.
Santa Rosa County Emergency Management this morning announced several road closures in the central part of the county:
CURRENT ROAD CLOSURES (as of 9:45 a.m.)
Commerce Rd – Open with Hazards (08/30/2017)
Commerce Rd is closed due to flooding.
Rice Rd – Open with Hazards (08/30/2017)
Rice Rd at 4225 is closed due to flooding.
Excalibur Way – Open with Hazards (08/30/2017)
Excalibur Way is closed hear Benny Russell Elementary School due to flooding.
Fisher Old Mill Rd – Closed until further notice
Fisher Old Mill Rd in the Holt area is closed at Log Lake Rd due to flooding.
CURRENT BRIDGE CLOSURES
There are No Bridge Closures at this time.

http://www.santarosa.fl.gov/roads-transportation/closures.cfm