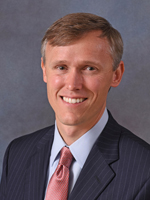 Today Florida House District 2 Representative Frank White filed for the 2018 race to be Florida's Attorney General.
Incumbent Florida Attorney General Pam Bondi is cannot seek re-election to a third consecutive term due to term limits.
White was elected in 2016 to represent parts of Escambia and Santa Rosa County.
Currently he is vice chairman of the Health Innovation Subcommittee and serves on the Ways & Means and Health & Human Services Committees and Civil Justice & Claims, Energy & Utilities and Health Care Appropriations Subcommittees.
White also serves as General Counsel/CFO of his father-in-law's, Sandy Sansing's, automotive dealerships.
Presently other candidates for the office include Jay Fant, Ashley Moody and Ryan Torrens.