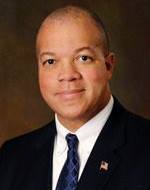 Florida House District 2 Representative Mike Hill is under investigation for homestead exemption fraud.
The Escambia County Property Apppraiser Chris Jones' Office this morning confirmed an "active" investigation is underway following a complaint filed last week.
"We have not finished that investigation," said Jones, who was unable to immediately release his office's correspondence with Hill because of the ongoing case. Jones said he will work to release information as soon as possible after ensuring the information is discloseable.
Hill is accused of fraudulently claiming homestead exemption for a house he owns at 6080 Forest Green Road in the Marcus Pointe area while listing his home address as 1 Portofino Drive Unit #2108 on state financial reports.
The allegations purport that when Hill entered a 2013 special election to replace the late Rep. Clay Ford he relocated from Northeast Pensacola to Pensacola Beach to live inside the district he represents; however, Hill from 2013 through 2015 continued claiming homestead exemptions for the Marcus Pointe residence, which he valued at $534,700 on his Form 6 Financial Disclosure.
Per Escambia County Property Appraiser records, including the 2015 assessed value of the home with the $50,000 homestead exemption was $241,655, resulting in a $2,994.43 tax payment.
According to Jones' website, "Anyone who claims an exemption to which he or she is not entitled forces the rest of Escambia County's taxpayers to make up the difference in taxes…those fradulently claiming homestead have the potential to significantly steal from our law enforcement, our schools and our quality of life as citizens of this county."
The site describes an example of homestead fraud taking place when an exemption is filed and a person is "not in good faith residing on the property on which he or she filed," and cites Florida State Statute 196, which states "any person who knowingly and willfully gives false information for the purpose of claiming homestead exemption is guilty of a misdemeanor of the first degree, punishable by a term of imprisonment not exceeding 1 year or a fine not exceeding $5,000 or both."
A similar investigation of House District 19 Representative Charles Van Zant resulted in a $8,716 tax lien paid July 25 by him and his wife for unpaid taxes and interest.
The Van Zant's homestead exemption was removed as a result of the investigation which led to the lien.