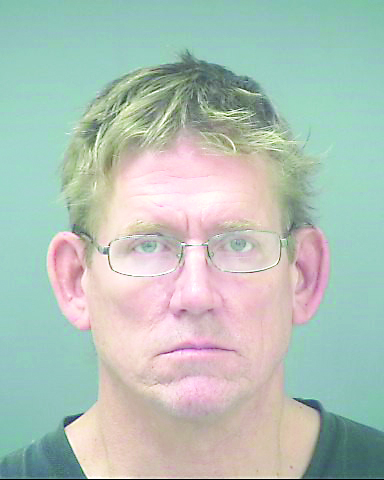 A lingerie-clad Navarre man who exposed himself to a retired sheriff's deputy and a woman back in March was booked into Santa Rosa County Jail on Indecent Exposure charges last Friday after an investigation determined the panties and bra he was wearing were not enough to cover up his genitals.
The man, 51-year-old Mark Baringer, who lives on Bay Club Drive, was reported to police back on March 15 by two of his neighbors who claimed the man was on his property walking around with panties and a bra on that were allegedly too small for the suspect.
According to the Santa Rosa County Sheriff's Office arrest report, one of Baringer's neighbors, a female, called a nearby neighbor to notify him that Baringer was on his front porch with his genitals exposed.
The report indicated that the woman told the neighbor, who was a retired Georgia Deputy Sheriff, that she was concerned about Baringer's behavior.
That's when the retired deputy went out of his house to investigate and saw Baringer on his front lawn in a pink bathrobe. According to the report, when Baringer heard the victim, he turned around and exposed what he had on under the bathrobe. The victim told the reporting deputy that the 51-year-old was wearing panties and a bra and that his genitals were hanging out of the underwear.
The retired law enforcement officer told SRSO deputies that when the suspect turned towards him, he asked the victim if he was "going to call the cops".
According to the report, that's exactly what the victim did. And Baringer retreated into his home.
When a deputy went to Baringer's house and conducted a non-custodial interview, the suspect alleged he had walked outside to get garbage can and that he was wearing a tank top and shorts underneath a bathrobe.
The suspect told the deputy that his bathrobe slipped open, but that he was fully clothed underneath it, the report stated.
The deputy who interviewed Baringer noted in the report that the suspect was acting unusually "frightened" and that his demeanor was unusual for someone being accused of this type of behavior.
The arrest report stated that within the last few months, the SRSO had received numerous complaints of a man walking around Bay Club with panties and a bra on. But the report indicated, deputies were never able to locate the under-dressed suspect.
The report did not indicate whether they were able to determine whether Baringer was the same suspect they had been getting complaints about.
The woman victim told the responding deputy that her neighbor has always had his robe open when she has seen him.
Baringer's bond was set at $1,000, which he later posted.
According to Santa Rosa County Jail View records, the Navarre resident has been arrested four times within the last 7 years on random charges and probation violations.