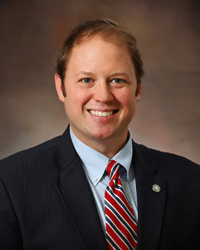 Florida Speaker of the House Jose Oliva has appointed Rep. Jayer Williamson (District 3) as chairman of the Government Operations & Technology Appropriations subcommittee. As an appropriations subcommittee chairman he will also serve on the full House Appropriations Committee.
"It is an honor to be named a chairman under Speaker Oliva and I am grateful for the responsibilities he has placed with me," said Williamson. "I look forward to working diligently on our state budget and take great pride in chairing a committee which funds such vital government operations that effect individuals and businesses across Florida."
In his sophomore term representing District 3, Williamson will lead his appropriation subcommittee in budget recommendations to the House Appropriations Committee for the following state agencies: Department of Revenue, Department of Financial Services, Department of Management Services, Department of the Lottery, Department of Business & Professional Regulation, the Agency for State Technology and the Public Service Commission. He is one of seven House members tapped to lead an appropriations subcommittee, which will guide the state's budgeting efforts over the next two years.
"A seat on the appropriations committee has been one of several goals since the day I took office," said Williamson. It allows our region to have a voice in the budget process and ensures we bring adequate funding back home to Northwest Florida."
Williamson was also one of only seven House members appointed to the Joint Legislative Budget Commission, which gives him the opportunity to work with members of both the House and Senate on the state budgeting process. Additionally, he will serve as the vice chairman of the Workforce Development & Tourism subcommittee and as a member of the Energy & Utilities subcommittee.
During his first term in the Florida House of Representatives, Williamson served as the vice chair of the Government Accountability Committee and as a member of the Agriculture and Natural Resources Appropriations Subcommittee. He also served on the Oversight, Transparency & Administration subcommittee as well as the Transportation & Infrastructure Subcommittee and the Joint Committee on Public Counsel Oversight during his freshman term.