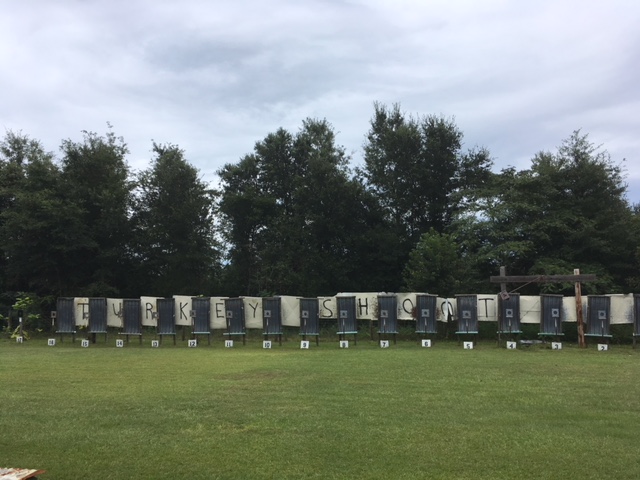 The Santa Rosa County Republican Executive Committee is hosting a September 8 turkey shoot fundraiser at Blue Gill Bait and Tackle in Chumuckla.
Grand prize, sponsored by Scott's Sporting Goods in Jay, is a Remington 16-gauge shotgun. Second prize is a certificate for a pair of snakeskin boots. Other prizes include meats ,such as chicken, turkey, bacon, and ribs.
A "turkey shoot" is a shooting contest where prizes are awarded for a shot closest to the bulls eye of a paper target. Organizers point out that animals will NOT be harmed during the event.
There will be approximately 16 paper targets set up at the U.S. standard distance of 90 feet.
Per SRCREC, anyone who purchases a ticket or tickets can participate, including children who are accompanied by a parent or grandparent.
Proprietor Ron Corley sets the rules and will be the sole judge, determining prize winners.
To be eligible to win, participants must purchase tickets and shoot. Winners need to be present to win, but participants may designate someone to shoot on their behalf and leave the event.
Participants may bring their own 12- or 20-gauge or .410 shotgun, and a shotgun will be loaned to those who do not have their own.
Participants may not bring their own shells, which are provided by Corley so that every shooter has an "equal chance."
Tickets are $10.00 per shot or 3 shots for $25.
Concessions will be available, and no alcoholic beverages are allowed.
The event will start at 12 noon and end no later than dusk. Rain date is Saturday, October 20, 12:00 noon.
Bluegill Bait and Tackle is located at 8160 Tidwell Road, Chumuckla.
Contact Corley at (850) 994-7882 for more information.