Back in 2016, plans for a hotel on a vacant commercial site were submitted to Santa Rosa County. That hotel was not built, but now new owners are moving forward with similar plans on two land-locked parcels on U.S. 98 near Navarre Beach Bridge.
Ownership changed in October 2022 from Jay Patel, owner of 8600 Nav Pkwy LLC, to Navri LLC, which is owned by Charul Patel et al of Okaloosa County. Records show the parcels were acquired for $2.11 million.
Last month Navri LLC filed plans with Santa Rosa County to build a four-story, 105-room Residence Inn by Marriott adjacent to Tommy's Snoballs.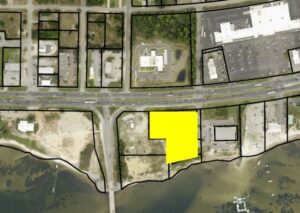 The hotel site is landlocked and does not directly connect to Santa Rosa Sound because of a small parcel of waterfront land located south of the proposed site and owned by Pensacola-based American Fidelity Life Insurance Company.
Tommy Cox, owner of Tommy's Snoballs, which operates on an adjoining parcel which is also owned by AFLIC, previously stated that a request for waterfront access for the hotel had been denied.