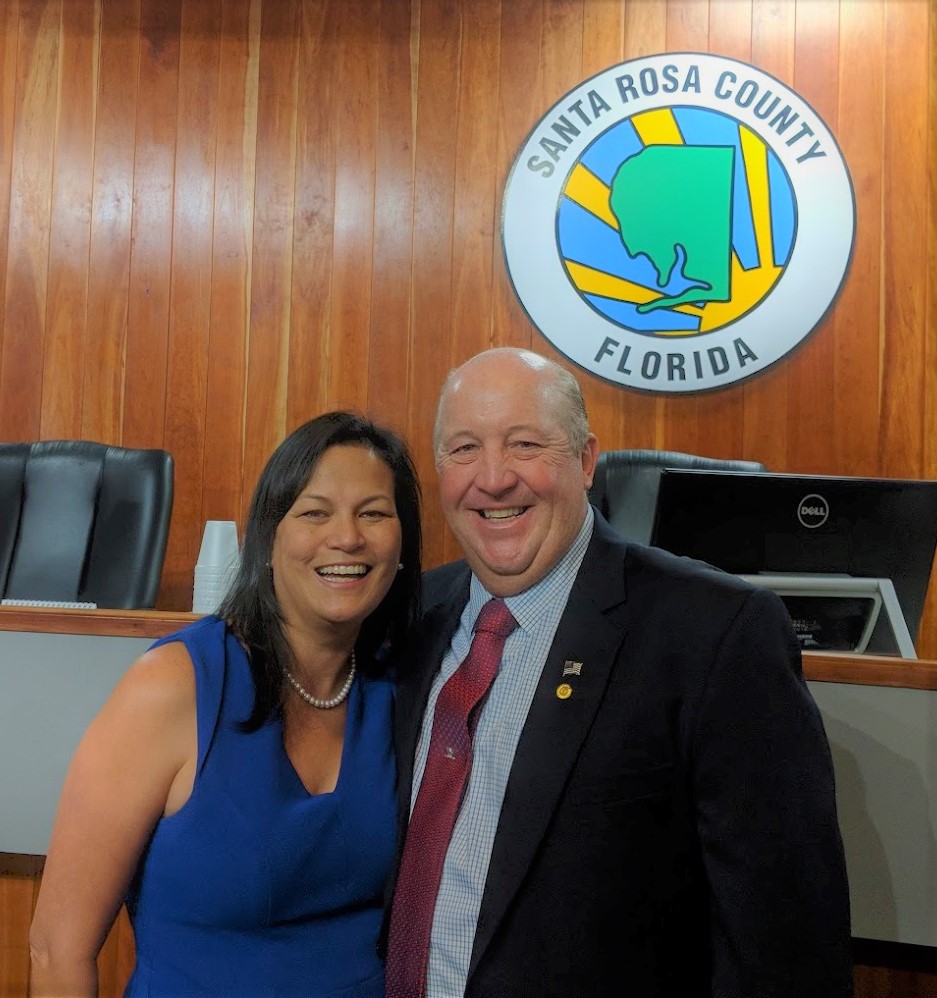 District 4 Commissioner Dave Piech with his wife, Lynn, following his November 20 Oath of Office ceremony. Mrs. Piech will also be taking on a new role — as a teacher at Navarre High School.
Col. Dave Piech, USAF (Ret.), a three-time squadron commander and group commander, on Tuesday took on a new leadership role as Santa Rosa County District 4 Commissioner, following his August 28 primary election win by a nearly 63-percent margin.
County Judge Robert Hilliard, himself a former county commissioner, conducted the swearing-in ceremony for Piech and District 2 Commissioner Bob Cole, who was re-elected to a fifth term by a roughly 73-percent margin during the November 6 general election.
Piech, who earned a Masters of Science in Engineering from the Air Force Institute of Technology, retired in February 2017 and now lives in Holley By The Sea with his wife, Lynn, who is transferring from Choctaw High School to Navarre High School, where she will be teaching 10th grade English honors, starting November 30.
Former longtime Santa Rosa County Sheriff Wendell Hall was one of Piech's key supporters during the election. Hall described Piech as honest and trustworthy. "His experience as a civil engineer while serving over 28 years in the U.S. Air Force makes him more than qualified to make good decisions about managing our growth, infrastructure, and building more roads to help alleviate our traffic problems," Hall said.
Piech campaigned on a desire to continue his service by focusing on planning, infrastructure, economic development, community and honesty.
"I will fight for and go for the best things in District 4," Piech told attendees at the November 14 Navarre Area Board of Realtors' monthly membership luncheon, pointing out that he considers the job a "team" effort and will rely on input from the community. "I wanna hear from you," he said, expressing hope the community can come together instead of competing against each other.
Some current issues Piech discussed during his November 14 presentation included the Navarre master plan, which is currently under development. "We need to deal in the reality of what is possible," he said, noting some of the conceptual drawings included in the plan are unrealistic and "probably not going to happen."
Piech also talked about the need for residents to be responsible pet owners. It's a subject close to his heart, considering he and Lynn have three rescued dogs. He suggested looking into county-issued dog licenses, noting the Santa Rosa County Animal Shelter euthanizes around 600 animals per month. "We're better than that," he said.
Bear encounters was another issue brought up at the luncheon. "It's not necessarily a bear problem," Piech said, noting that some people are feeding or attracting bears by not securing garbage. He said new state funding for commercial and residential trash container locks in the south end of the county can help mitigate the problem if used properly.
One of the issues he believes he will face during his term is a plan for replacing the aging Navarre Beach Bridge. "The county doesn't want to talk about it," he said, explaining that the emphasis has been on the planned new courthouse. "We've got to start talking about it," he said.
Additionally, when asked about the possibility of Navarre's incorporation, he said figures which are presented to the public need to be accurate. "There are benefits to it, I think. It's just not as easy as saying just incorporate."
Piech's first official county commission meeting will take place at 9 a.m. on Monday, December 10 at the County Administrative Complex, located at 6495 Caroline Street in Milton.