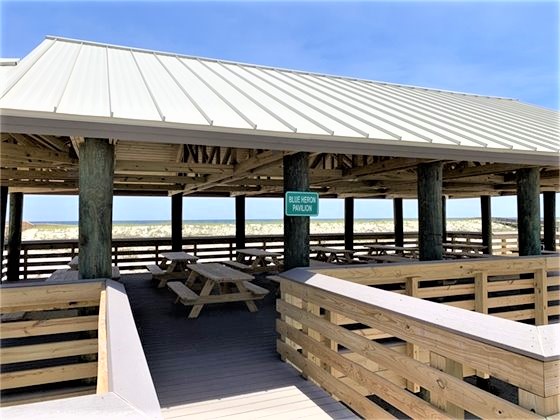 The new Blue Heron Pavilion has 12 picnic tables (with ADA accessible seating) and eight grills. Photo courtesy Santa Rosa County Public Information Office.
New ADA-friendly pavilions, restroom facilities with showers, parking spaces and other much-anticipated enhancements in Navarre Beach Marine Park are complete.
The Santa Rosa County Board of County Commissioners along with representatives from the Florida Department of Environmental Protection invite the public to join them for a ribbon-cutting ceremony in the new Blue Heron pavilion located gulf side in the Navarre Beach Marine Park, 8739 Gulf Blvd. on Navarre Beach, Tues., June 25 at 10 a.m.
The gulf side improvements are the last of two beach enhancement projects at the park.
"The gulf side improvements are a great addition to the overall beach experience and exactly what we need to serve our visitors," said Commissioner Dave Piech, District 4. "I'm thankful to the state and our county staff for working so hard to bring this project to reality. It protects our precious resources while allowing visitors to experience the beauty of the Navarre Beach Marine Park."
Additions include:
A new 200+ space parking area including six ADA spaces.
An accessible beach access boardwalk with two showers.
A restroom pavilion with skylights.
One large (Blue Heron) and two smaller (Barracuda and Sea Horse) pavilions with ADA-accessible picnic tables and grills.
An observation platform.
"Florida's coastal resources are an integral part of a Floridian's way of life," said DEP Secretary Noah Valenstein. "DEP was proud to partner with Santa Rosa County to complete this project, which will protect as well as enhance the use and enjoyment of this area's natural treasures."

Construction costs for the Gulf side improvements are $1,962,078 with funding provided from the Deepwater Horizon Program NRDA Early Restoration Program Phase III along with $493,935 in matching county funds from tourism tax reserves.