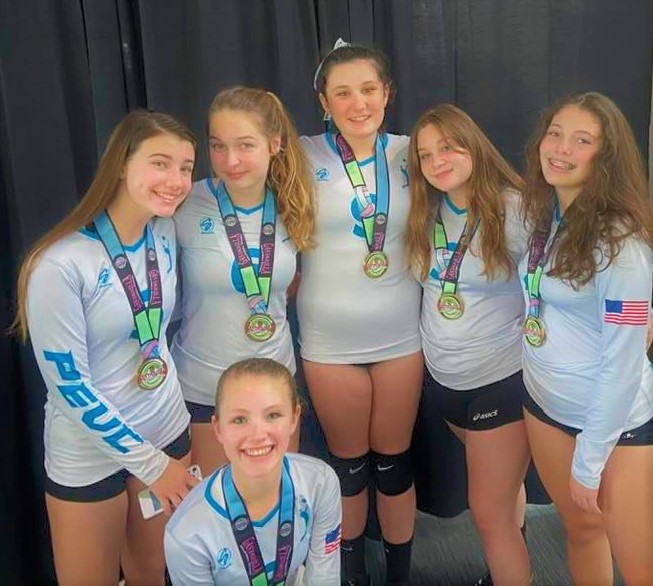 Panhandle Elite Volleyball Club 13U squad is currently ranked 6th in the nation. Pictured left to right, following their February 15 win: #5 Claire Pollitt, #6 Zoe Malloy, #9 Syd Sutter, #3 Raina White, #2 Stella Keigley and #8 Estelle Reese (kneeling). Not pictured are #1 Bella Ciolino, #10 Savannah Conklin, #7 Allie Hepworth and #4 Reagan Smith. Photo by Romi White.
Syd Sutter is an up and coming star on the local volleyball scene. Sutter has been leading her volleyball team, the 13U squad from Panhandle Elite Volleyball Club in Gulf Breeze, on an undefeated streak this season.
Sutter is not only a formidable force on the court but also a unifier off the court, encouraging and uplifting her teammates, who practice together for 9 hours each week.
Last weekend the team won the 13U open championship at the Gasparilla Kickoff Classic at the Tampa Convention Center. In January the squad took home the 14U club championship at Lil Big South in Atlanta, and earlier this month won the 14U club championship at the 2021 Storm Invitational in Mobile, Alabama.
Next up is the March 6-8 Sunshine Qualifer in Orlando, Florida, where the team could potentially win a bid to play at the June 2021 USAV Girls Junior Nationals Championship.
Additionally, the squad is also scheduled to play in the March 27-28 Baton Rouge Block Party tournament, the April 9-12 Lone Star Classic in Dallas, Texas, and the April 24-25 Gulf Coast Regional Championship in Mobile. Their PEVC league is also hosting a local April 17-18 beach tournament.
For sponsorship information, contact PEVC Head Coach Ryan Davenport at panhandlelitevolleyballclub@gmail.com or donate to the 13N Coach Clay team via https://www.panhandleelitevolleyballclub.org/.