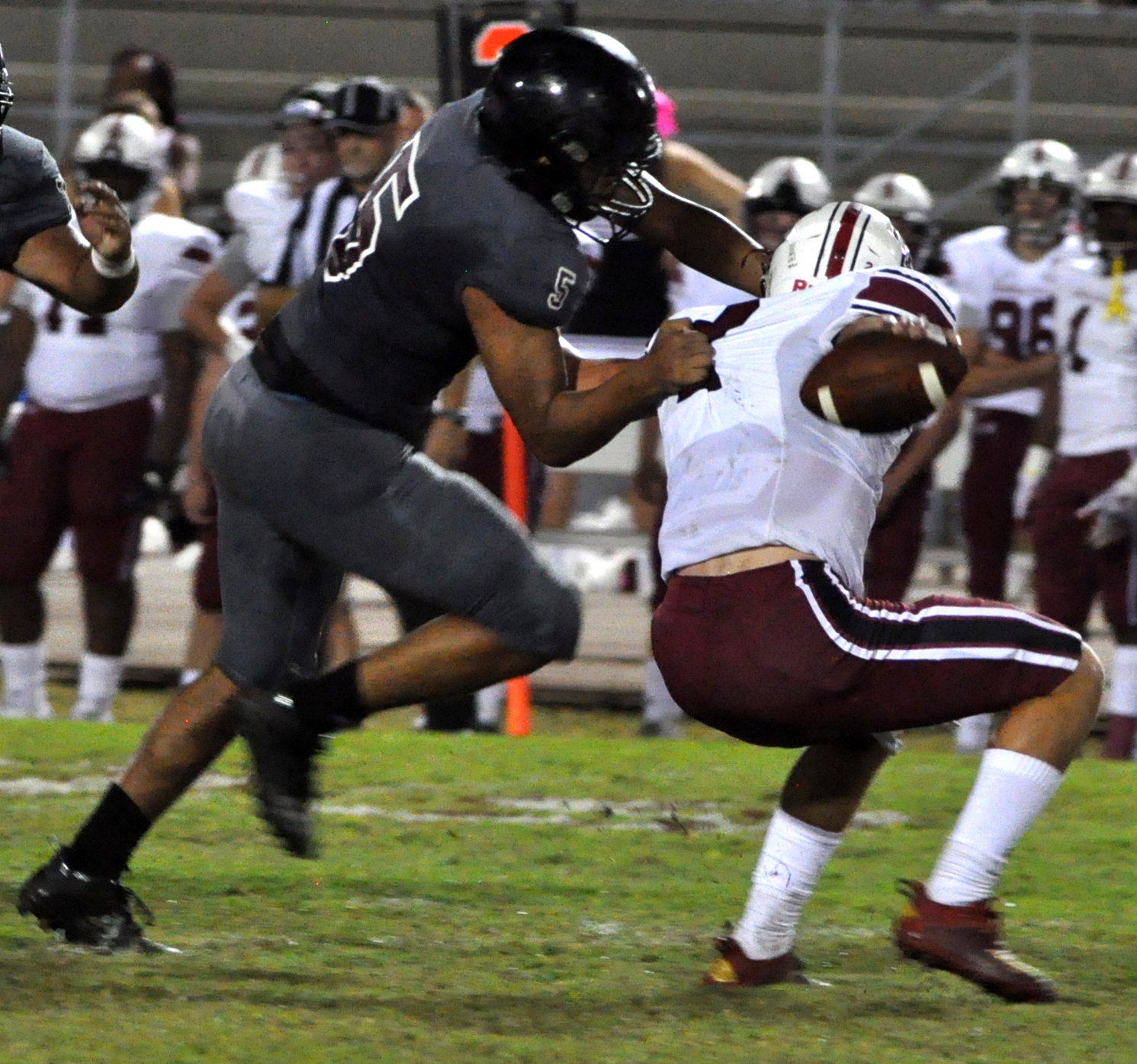 It took every single second Friday night for the Raiders to tame the Andalusia Bulldogs (6-4).
Navarre running back Jaden Rivera blasted into the end zone from a long two yards behind Grady Kelly and the right side of the offensive line for a 16-14 win in Russell Stadium.
Kelly, usually a defensive lineman, and the rest of Friday's ad hoc offensive line were pressed into service after at least eight players and a coach were isolated following exposure to coronavirus two weeks ago.
So, the Raiders – now 4-0 – needed the ball to, figuratively, bounced their way. And it did during that final series. The culminating drive began with 2:27 on the clock deep in Navarre's end of the field.
"We felt like we had thrown and had success with our two-minute offense," head coach Jay Walls said. "It was third and goal. Three seconds left and we had to run it in."
Rivera got the call, again.
"Everybody in the stadium knew I was getting the ball. Everybody's eyes on me. I just had to go downhill," he said, still breathless from the post-game celebration.
Rivera quickly paid due credit to a group of players who had to learn new positions and plays over the last two weeks. Walls and the coaching staff spent two weeks teaching blocking schemes and techniques.
"We knew there would be mistakes, but they really played hard," Walls said. "We needed something good to happen."
They opened up a big hole on that final play, with Kelly leading the way.
"I pulled up into the B-gap, and I sealed off two guys to the right so he (Rivera) could punch it right off my hip," Kelly said.
The senior running back said, "As soon as I saw it, I hit it."
Playing on both sides of the ball, Kelly showed signs of fatigue as early as the second quarter – tapping out for relief and sitting on the bench spraying water on his face.
"Man, that's the first time I've went both ways in a whole game since probably like sixth grade, so I'm pretty exhausted right now," he said. "I was able to get in there at the end and dog it out, lead Jaden up the middle for the last touchdown."
Special teams, again, figured heavily on the outcome against the Bulldogs.
Jebari Mitchell took the opening kickoff more than 50 yards and gave the Raiders a short field to navigate for their opening touchdown. So, with less than two minutes expired, Navarre was up 7-0.
Later, Preston Penton and the kicking team put up another three points on a 48-yard field goal for a 10-0 advantage they took into halftime.
"Huge win. Statement win," Kelly said. "We haven't played for two weeks. Huge win for the guys and momentum going into playing Enterprise, another team coming in from Alabama."
The Enterprise Wildcats (7-2) come to Russell Stadium Friday (Oct. 30) riding a three-game winning streak. They've outscored opponents 390-193.
Kick-off is 7:30 p.m.