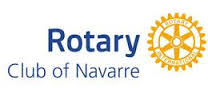 Rotary Club of Navarre is celebrating the expansion of their Navarre Beach Rescue Tube Project with a ceremonial ribbon cutting. The event has been scheduled for Oct. 26 and will be facilitated by the Navarre Area Chamber of Commerce.
"Since 2010, 6 people have drowned on Navarre Beach in the unguarded area that would be covered by these proposed rescue tube stations. In two instances, the victim of drowning was attempting to rescue a swimmer in distress," stated a release from the club, which also expressed appreciation to club members, Santa Rosa County Commissioners, project sponsors and the Rescue Tube Foundation and its director, Branch Lotspeich.
For more information visit www.Rescuetubefoundation.org.
The ribbon cutting will be held rain or shine at 9:30 a.m. and will be hosted by Summerwind Condominium Association at 8577 Gulf Blvd on Navarre Beach.