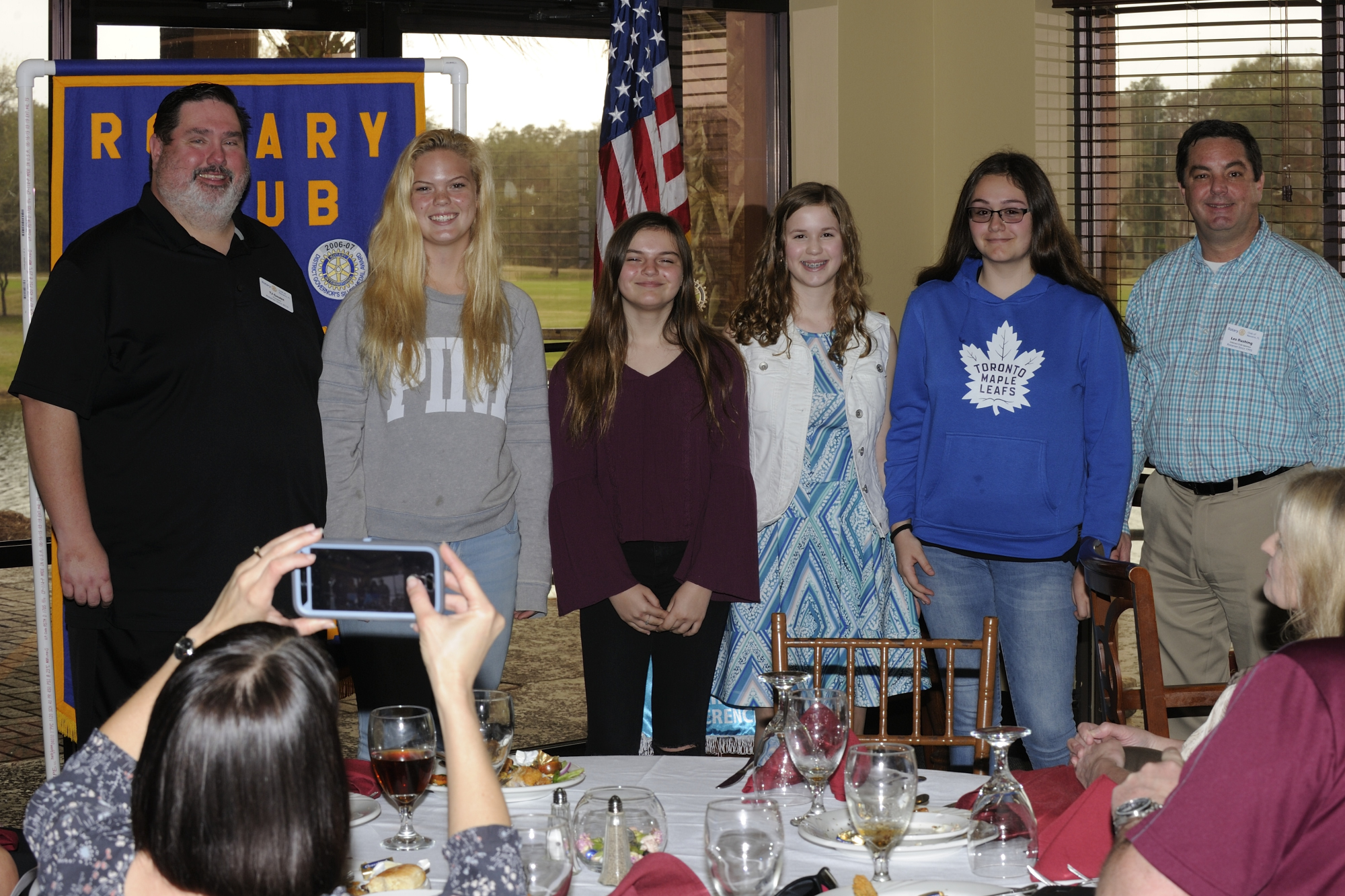 Pictured left to right: Rotary Club of Navarre President TJ Goulet, Hunter Wallace, Cassidy McWatters, Carly Russ, Olivia Smith and Club Youth Program Coordinator Les Rushing.
Rotary Club of Navarre is pleased to announce the winners of this year's 8th Grade Essay Contest: Cassidy McWatters, first place; Olivia Smith, second place; Hunter Wallace, third place; and Carly Russ, fourth place.
The winners were selected by a panel of 8 Rotarians from a dozen submissions from 8th graders in Navarre. Winners received a plaque, certificate and checks for $100 to the winner, $50 for second place and $25 for third and fourth places.
Since 1996, Rotary Club of Navarre has been conducting this annual contest with area 8th grade classes.
The top 4 finishers among were invited to a special February 23 luncheon in their honor, along with their families and teachers, to read their winning essays to the attendees and receive their award plaque and check.
"The 8th grade essay contest is one of our favorite events. The essays presented by these young people are extraordinary and insightful. Our club really enjoys working with the local schools and students and meeting the families and teachers," Rotary Club of Navarre President TJ Goulet said. "Our club focuses much of our community activities towards supporting children and families. Les Rushing, our Youth Program Coordinator, does incredible work coordinating with the schools to make all this possible. In addition to our 8th grade essay contest, Les also coordinates the NHS Interact Club with 75 members. Our club also supports JROTC, SLDC in the Middle School and we have our annual scholarships which has awarded over $50,000 in scholarships in the last 20 years."
Each participating school also has a permanent plaque that recognizes the top submission from each year for that school.