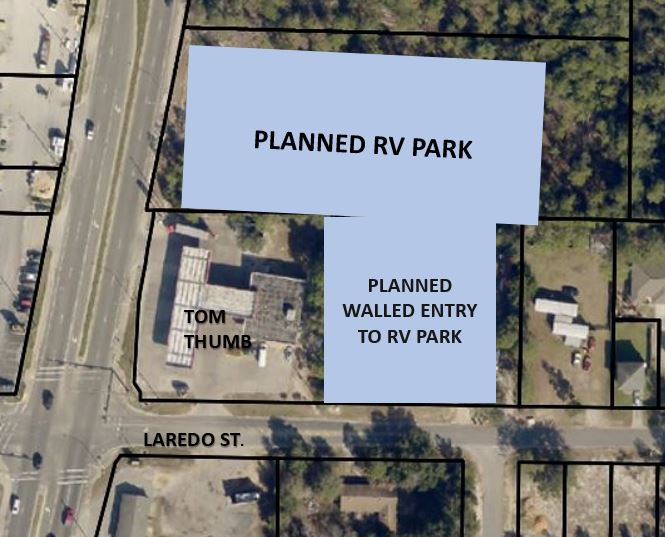 Graphic by Romi White to show approximate locations of planned improvements. Submitted site plan shows access points are planned for both Hwy. 87 S and Laredo Street.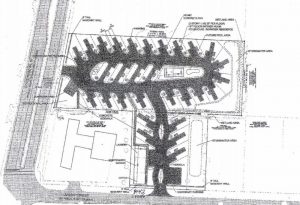 Site plan submitted to Santa Rosa County
Plans for a RV park on Hwy. 87 S in Navarre came to light recently when the owner of an adjacent parcel of land on Laredo Street sought for Santa Rosa County to rezone the property to allow for an entrance and related facilities to connect the lots.
Former County Attorney Angie Jones, now in private practice in Pace, is representing Arthur and Ann Larson, who own the 0.92-acre parcel located at 8442 Laredo Street.
That site currently houses a mobile home, and they are seeking to erect a masonry wall on both sides of an access road into the planned RV facility.
The overall project is designed for an RV park with office and laundry facilities,
manager's quarters and pool amenity area mostly located on the adjacent 2.24-acre parcel, which is located directly on Hwy. 87 S just north of the Tom Thumb convenience store.
The county zoning board will discuss the matter during their 6 p.m., Thursday, June 18 meeting, which will take place at the county administrative complex, located at 6495 Caroline Street in Milton. The meeting can also be viewed online via http://www.santarosa.fl.gov
To submit comments regarding the project, you can email all five Santa Rosa County Commissioners, who have the final say in the matter, via bocc@santarosa.fl.gov.