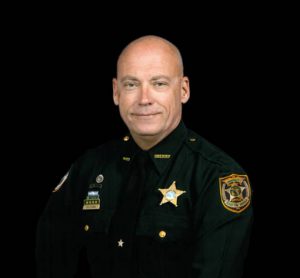 Santa Rosa County Sheriff Bob Johnson during Wednesday's Navarre Area Board of Realtors monthly luncheon announced that during the first quarter of 2018 the county's crime rate dropped 19 percent.
Johnson, who has been employed with the agency since 1993, said he's never seen such a significant year-to-year drop.
Johnson attributes the crime rate decrease in part to a 10-percent salary increase funded by county commissioners. "They feel like they're getting what they deserve and that they are valued, so the deputies are being more aggressive and pro-active," he said.
According to Johnson, the salary increase has enabled his agency to compete with law enforcement agencies in neighboring counties. He said recently they have been able to hire deputies who were working for Pensacola Police Department and other nearby agencies.
However, Johnson is faced with the challenge of a state mandate resulting from the February 14 school shooting in Parkland. In the wake of the tragedy, state lawmakers passed legislation requiring a school resource officer for each school.
"There's no way I can do that," said Johnson of the mandate.
So far Johnson has been able to hire 10 school resource officers and plans to hire 12 more during the 2018-2019 school year.
But he will need a total of 26 SROs and said it will likely take until the end of the 2020 school year to complete the new hires, considering the amount of vetting and training required.
Retired deputies have been a source of new SRO hires, Johnson said.
Johnson had a scheduled dinner with Florida Governor Rick Scott Wednesday night and planned to address the matter then to discuss any potential penalties for not being able to hire SROs for every school during the 2018-2019 school year.