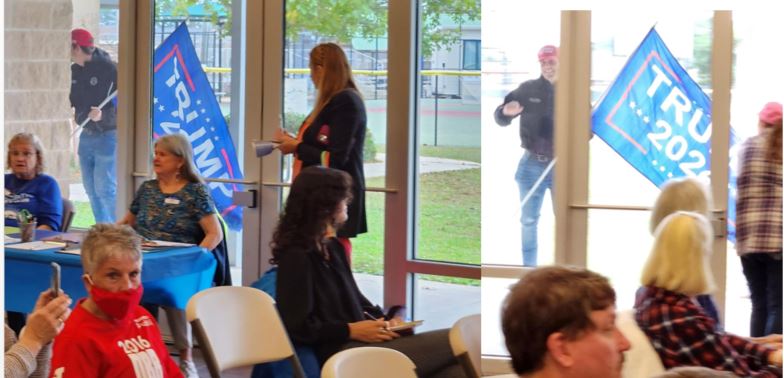 Santa Rosa County District 3 Commissioner James Calkins upset attendees during today's "Take Back Florida Tour" stop, which was hosted by Santa Rosa County Democrats. Calkins paraded past a bank of windows at Tiger Point Community Center, carrying a Trump flag while skateboarding.
"I cannot believe he did it," said one attendee, who preferred to remain anonymous. "He was wearing a MAGA hat, and he really upset those who came to see Nikki Fried."
Fried, who lost her 2022 bid in the Florida Governor's race, is now the leader of Florida's Democratic Party.
Other featured Democrats promoted as speakers on the tour stop included Elizabeth Hewey, current Santa Rosa School District 2 School Board member, and Gay Valimont, who is running against U.S. Congressman Matt Gaetz.
The event was billed as an opportunity to come hear local and state Democrats talk about the Party's vision to "take back" Florida.
When questioned, Calkins readily admitted to the stunt. "I'm deeply concerned that we have a Democrat on the Santa Rosa School Board, and I wanted this group of Democrats to know they are in Trump Country," he said, adding he was told by one of the organizers that he was not welcome at the event. "This is a publicly owned building, and my constituents want me to protect our County from being infiltrated by Democrats. America is about freedom, we live in the free State of Florida, and Santa Rosa County is free."