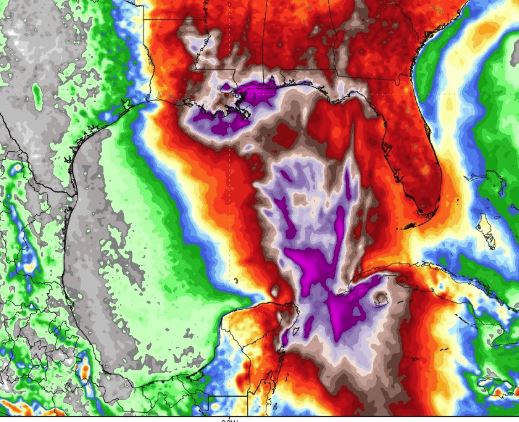 Graphic by weathermodels.com
The National Hurricane Center this morning increased to 60 percent the likelihood of development of Invest 90-L, a low-pressure system currently near the coast of northeastern Belize, and Santa Rosa County Emergency Management is offering advice for residents to protect themselves and their property against current and future threats posed by tropical weather.
Emergency management staff today recorded a video, showing the proper way to use sandbags to shore up a home ahead of this weekend's possible torrential rainfall and potential flooding (the link to that video will be added to this story soon).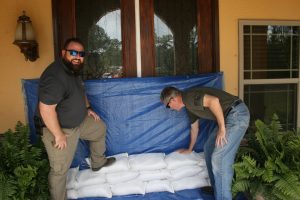 Santa Rosa County Emergency Operations Chief Tom Lloyd and Plans Chief Daniel Hahn demonstrate the proper way to use sandbags to protect a home
According to Meteorologist Dr. Ryan Maue, chief operating officer of Weather.us, the European computer model shows Invest 90-L's flooding potential at five to 15-plus inches of rain along the Gulf Coast, from Louisiana to Florida.
"Often a disorganized, slow-moving weak tropical low, depression or low-end storm can cause catastrophic flooding," stated Maue.
Additionally, the 1:30 p.m. update from the National Weather Service in Mobile states there is an "extreme" threat of flooding from Saturday through Tuesday along coastal counties with widespread areas of flash flooding possible. "Rainfall amounts of 6-12 inches are possible with localized higher amounts. This can be particularly hazardous for those who live near rivers and creeks," stated the update.
In addition to helping residents prepare for this weekend's weather threat, SRC Emergency Management next week will co-host a Tropical Town Hall from 6:30 – 8:30 p.m., Thursday, May 31 at the Emergency Operations Center, located at 4499 Pine Forest Road in Milton.
The event is free and open to the public and will give residents the opportunity to learn about the upcoming tropical season and how to prepare from the county's emergency management team and forecasters from the National Weather Service.
"We encourage residents who have never experienced a tropical storm or hurricane to attend as well as those who have weathered significant events in the past like Ivan and Dennis," said Emergency Management Director Brad Baker. "We have more technology available to us now and will be sharing these tools with our attendees."