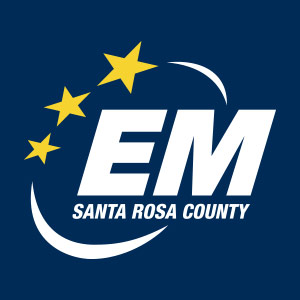 Simple steps you can do now in advance of Hurricane Irma
Santa Rosa County Emergency Management is closely monitoring Hurricane Irma and there are no actions anticipated before Friday. It is still too early to determine if Irma will impact our area.
Meanwhile, there are several easy steps residents can take now to make preparations and reduce stress.
Review, update or make a disaster plan.
Check www.santarosa.fl.gov/KnowYourZone. If you live in a mobile home, or an evacuation zone, know where you will go and how you will get there. Shelters are a last-resort option. You will be much more comfortable with family, friends or a hotel. And don't go far – think in terms of tens of miles, not hundreds.
Have pets? Download our pet-friendly shelter application and return to Animal Services.
Take a photo or video inventory of your home, vehicles and belongings and store online or on your mobile device.
Top off your supplies. You should have three to five days' worth of nonperishable food, medications and at least one gallon of water for each person and pet per day.
Have a good stock of batteries and extra gas for your generator.
Stay updated. Tracks can change quickly. Tune into local media regularly.
Santa Rosa County is making limited supplies of sand available at no cost at several locations. Sand bags are available at local home improvement stores for purchase (Hall's Hardware in Milton, Lowe's in Midway and Pace). Bring shovels to fill and load your own bags at the following locations:
Leisure Street at Citrus Drive in Holley By the Sea
Tiger Point Park in Gulf Breeze
Pace Fire-Rescue in Pace
The corner of Pine Forest Road and Carroll Road in Milton
Citizens may call (850) 983-INFO (4636) with questions.