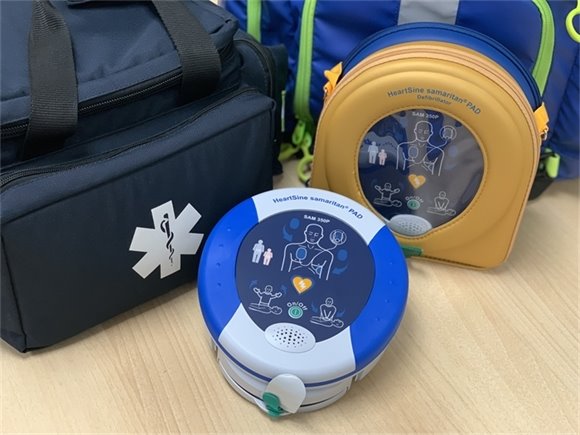 Santa Rosa County School District in partnership with Santa Rosa County Emergency Management, recently upgraded each of their schools and facilities with automated external defibrillators (AED)s. An AED is a lightweight, portable device that delivers an electric shock to the heart, potentially stopping an irregular heartbeat and allowing a normal rhythm to resume following sudden cardiac arrest. The implementation of the 82 new defibrillators increases the reach of the county's public access defibrillator program so the community as a whole is better prepared to respond to cardiac emergencies.
"Organizations that implement AED programs with proper training can greatly increase the chances of survival for people who experience cardiac arrest," said Tom Lloyd, operations chief for Santa Rosa County Emergency Management. " The goal of a successful AED program is to deliver defibrillation to a sudden cardiac arrest victim within three to five minutes after collapse – it's about saving lives."
The AEDs, purchased through Cardiac Solutions, include voice prompts to walk users through the steps necessary in life-saving defibrillation.
"Sudden cardiac arrest can happen to anyone at any time," said Daniel Hahn, safety director for the school district. "Equipping our schools with AEDs and ensuring our faculty and staff are trained to use them can mean the difference between life and death."
According to the American Heart Association, each year emergency responders treat about 383,000 victims of sudden cardiac arrest before they reach the hospital. Less than 12 percent of those victims survive.