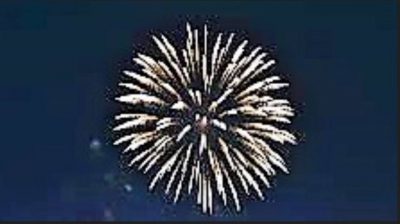 As our nation prepares to celebrate Independence Day on the Fourth of July, the Santa Rosa County Sheriff's Office and Navarre Fire Departments encourage you to be safe and observe the law in Florida regarding the possession and use of sparklers and fireworks.
Although you can find a wide variety of fireworks at stands in adjoining states, and even in the local area, it is important to understand only those items classified as "sparklers" (including fountains and smokers) are legal to use or possess in Florida.
Signing a waiver at a local stand only protects the vendor and does not provide any protection to a purchaser who uses the fireworks. Further, anyone using illegal fireworks can be held liable for any injuries or damages accidentally caused by their use.
Under Florida Law (Florida Statute 791.02) it is unlawful for any person to use or explode any illegal fireworks. Anyone found guilty of violating this law can be fined $1,000 or sentenced to one year in jail.
Illegal fireworks include any object that explodes, propels itself, projects an object into the air, or contains more than 100 grams of the chemical compound which produces sparks upon burning.
Local officials encourage citizens to think "safety first" —
place used legal fireworks in a bucket of water before disposing of them;
keep small children and animals away from legal fireworks;
never relight those that don't work;
also, if you live near or are around Veterans, it would be respectful to ask them if they would be bothered by them.
As a parting note, close out your Independence Day celebration with a fireworks show over Navarre Beach at 9 p.m., Thursday, July 4. Fireworks will be launched from Navarre Beach Marine Park.
OTHER LOCAL FIREWORKS DISPLAYS:
Milton
9 p.m., Thursday, July 4 over Blackwater River
Riverfest 2019 starts at 9 a.m. at Riverwalk Park on Willing Street. Event includes food and retail vendors plus motorcycle and car shows and the 5 p.m. Great Milltown Duck Race. Children's area opens at 11 a.m.
Pensacola Beach
8:30 p.m., Thursday, July 4
Over Quietwater Beach Boardwalk
Pensacola
9 p.m., Thursday, July 4
Over Pensacola Bay
Sertoma's 29th annual celebration includes kids' activities from 11 a.m. until 6 p.m. at Bartram Park followed by Beatles and Elton John tribute bands from 6-9 p.m. at the Stage on Bayfront. Fireworks begin at 9 .m. with synchronized music played on Cat Country 98.7. More info via www.pensacolafireworks.com. Additionally, free admission for Symphony, Sparks and Stars with live music and a jet flyover, will take place from 7:30-9 pm at the Community Maritime Park.
Destin
9 p.m., Thursday, July 4
Over Destin Harbor
33rd Annual Independence Day Fireworks Show can be seen over the East Pass. Tune in to Z96 (96.5 FM) for the simulcast music. In the event of inclement weather the fireworks show will take place at 9 p.m., Friday, July 5.
ADDITIONAL INFORMATION FROM SANTA ROSA COUNTY EMERGENCY MANAGEMENT:
For those celebrating at home, Santa Rosa County urges the use of caution and common sense. On a typical Fourth of July, fireworks account for two out of five of all reported fires and thousands of people, most often children and teens, are injured while using consumer fireworks, according to the National Fire Protection Association. Follow these tips to help keep you and your family safe:
Purchase state-approved sparklers from licensed vendors.
Read and follow all warnings and instructions before using.
Light sparklers on a flat smooth surface away from combustible materials (not grass).
Keep a fire extinguisher or water hose ready for emergencies.
Never have any portion of your body directly over the sparkler when lighting the fuse.
Never allow children to use any sparkler without supervision.
Light only one item at a time and never attempt to re-light a "dud."
Submerge used and "dud" sparklers in water prior to placing in trash receptacles.
Remember, Fido and fireworks don't mix! Shelters often see an increase in lost pets after fireworks displays. Follow these tips to help keep your pet safe:
Keep pets indoors during the evening of July 4. Turn on the TV or radio as a distraction and close the curtains. Provide a pet bed or crate in a quiet place to create a small den-like place and a sense of security.
Take your pet for an extra potty break before fireworks begin. If your pet becomes frightened, this can help prevent accidents.
If your pet often becomes stressed during periods of loud noise like thunderstorms, check with your veterinarian to see if a tranquilizer is appropriate for your pet during the festivities.
If you are near a fireworks display or if neighbors are lighting fireworks, don't leave your pets unattended outside, not even in a fenced yard or on a chain. Frightened pets may try to escape a fenced yard or become tangled in their chains.
Make sure your pets have proper identification tags with current information in the event they run away. If you must be outside with your pet, keep the pet on a leash or in a carrier at all times.
Do not leave your pet in a vehicle while you watch a fireworks display. In only a matter of minutes, the heat in a car can cause serious health problems or death, even at night. Also, a stressed animal can also cause major damage to the interior of your vehicle.
If your pet is missing, call Santa Rosa Animal Services at (850) 983-4680 or click the "Search Lost Pets" tab at www.santarosa.fl.gov/animals.