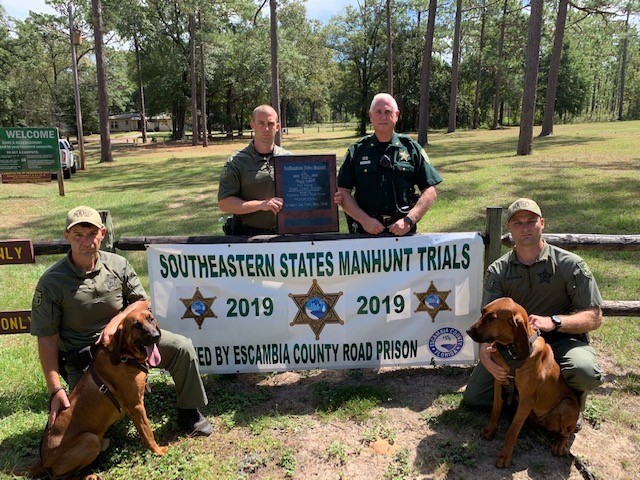 Pictured left to right are Deputy Robert Lenzo with K9 Zinc, Deputy Donald Carter, Colonel Randy Tifft and Deputy Josh Chandler with K9 Copper.
Santa Rosa County Sheriff's Office K9 unit was recently invited to participate in the 2019 Southeastern States Manhunt Trials, and the team took home the second place trophy.
SRSO Colonel Randy Tifft, who oversees the unit, said the unit performed very well, considering two of the K9s, Zinc and Copper, are only about a year old and have only been with the agency for about seven months.
"They were competing against teams who have been involved in the trials for years," Tifft said.
The trials took place September 16-20 at Coldwater Recreation Area in Blackwater River State Forest and included dog-tracking units from four states: Florida, Louisiana, Alabama and Arkansas.
Thirteen teams competed in the Single Leash Category, and SRSO placed 2nd place.
"They only missed first place by :59 seconds," said Tifft.
Santa Rosa Correctional Institution took the first place trophy, and Walton Correctional Institution placed third.
No electronics, mapping, tracking nor GPS capabilities were allowed during the competition. Only radios and flashlights were permitted during night tracks, per Tifft.
The invitation-only event was hosted by Escambia County Road Prison.